In the last three weeks of its time in the Leeds Diocese the Icon of Peace  was in Leeds, Garforth and Cottingley.
Between 27 March and 02 April it was at the Holy Rosary Church on Chapeltown Road in Leeds – part of the parish of Our Lady of Unfailing Help. They had an event every day centred around the Icon – ranging from Exposition of the Blessed Sacrament, a couple of peace liturgies and peace Stations of the Cross followed by a simple lunch. There was also an event involving the primary school , taking the story of Esau and Jacob as the theme.
The following week the Icon was in St Benedict's parish in Garforth where there was a similar pattern of using the icon as a focus for reflection about peace and reconciliation.
The Icon's last week in the Diocese (encompassing Holy Week and Easter) was spent at the parish of Our Lady and St Joseph of the Aire Valley – at the church of St Mary and St Monica in Cottingley. Again, the icon was placed to one side of the altar to provide a focus for prayer and reflection about reconciliation.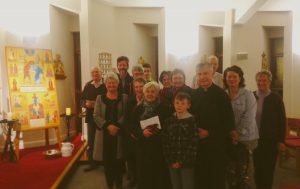 The Group photo from  St Mary & St Monica shows parish priest Fr Sean Molloy with parishioners after the Maundy Thursday mass. On the far right is parishioner Paddy Spiller who along with Ann Trotter, Colin Spiller and Fr Sean were heavily involved in preparing the reflections about the icon in the parish – making it a real parish affair.  Annette Mitchell, who also helped to organise the icon, commented, " The icon provided a beautiful focus for prayer and reflection. I understand the need for action on peace issues such as the injustices suffered by Palestinians, but sometimes we also just need to take time to reflect and pray. I am really glad that we were able to host it in our parish."
The icon leaves Leeds for Birmingham, where it is to be used at a large Taize event at the end of April.
Its presence across the diocese has touched many people –  in the region of 1000 prayer cards with an image of the icon have been distributed and the icon has been a part of over 50 services.  The icon was on loan from Pax Christi UK and anyone wanting further information about the icon should get in contact with them directly.