Jun
16
Sat
The World we Want

@ The Priory Street Centre
Jun 16 @ 2:30 pm – 6:30 pm
This is the Global Justice Now Annual Gathering (In the morning at 11:00 is their AGM)
With speakers including: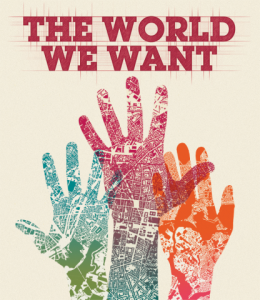 Jason Hickel, author of The Divide: A Brief Guide to Global Inequality and Its Solutions
Rachael Maskell, MP for York Central and Shadow Rail Minister
Nick Dearden, director of Global Justice Now
Anke Kleff from Barcelona en Comú (social and economic justice platform currently governing in Barcelona)
For decades we've been told that there is no alternative to a global economy run in the interests of corporations. Big business creates the wealth and lifts everyone up in the process. Yet when the richest 1% owns 82% of wealth globally, people are increasingly seeing through these lies.
Those who want a better world often spend their time fighting the latest encroachments of corporate power. But the movements we're part of are also generating ideas for the world we want to see, and beginning to build them. These alternatives, from energy democracy to public and commons-based ownership of essential medicine, put the majority of the world's people and the environment first. Together, they offer a much needed vision of the world we want, and are stepping stones to a better future, beyond the inequality and injustice of neoliberal capitalism.
With workshops and discussions on:
Barcelona and beyond: the citizen platforms democratising cities
Food sovereignty
Public ownership
The commons and access to medicine
Energy democracy
What good trade deals would look like
UK aid as global redistribution
Freedom of movement
Growth and degrowth
Organised by Global Justice Now and York Trade Justice.
Sep
29
Sat
Celebrating 20 years of Debt Justice Campaigning

@ The Birmingham and Midland Institute
Clare from the Jubilee Debt Campaign writes:-
Over the years you've helped to sustain the Jubilee Debt Campaign's work for debt justice by signing petitions or encouraging others to do so, attending workshops or events, or by pushing out our actions on social media. Your efforts have been key to some very big and important victories, and in laying the groundwork for many more to come.
We want to say thank you for all that you've done and to share our important and exciting plans for the next few years, and how you can get involved.
I'm writing to invite you to our upcoming national event on Saturday 29 September in Birmingham.
2018 marks two significant dates for the debt justice movement: 20 years since the 'human chain' around the G8 which saw more than 70,000 on the streets of Birmingham calling for debt cancellation, and 10 years since the start of the financial crisis which 'brought home' the debt and austerity politics that countries in the global south have long been subjected to.
As the Jubilee Debt Campaign, we want to mark this important year by bringing together campaigners from across the UK to spend a day together talking debt justice campaigning past and future.
You can expect a workshop about debt issues in 2018, rousing speeches, a city-centre stunt, catching up with old friends or making new ones, and food and refreshments and films.
You can come for a couple of hours or the whole day. We really hope you can make it.
The venue is Close to Birmingham New Street, Snow Hill & Moor Street stations
Book A Place