When:
17th September 2017 – 23rd September 2017
all-day
2017-09-17T00:00:00+01:00
2017-09-24T00:00:00+01:00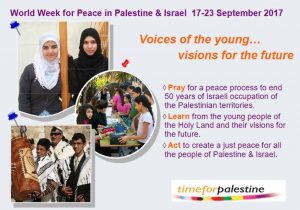 2017 marks 50 years of Israeli occupation of the Palestinian territories.
This is a time when people of all faiths are encouraged to make a common witness through services, educational events, and acts that support peace and justice for Israelis and Palestinians.

(World Council of Churches)

There are all sorts of things that church communities could do:-

Arrange a service or time of prayer during the week
Use some of the Pax Christi story resources to give voice to the experiences of young people in the Holy Land
If you have students or young people in your area from the Holy Land invite them to a social evening – offering them time to share their stories

Pax Christi have downloadable resources Pax Christi Resources

Their website also contains links to all sorts of other resources and ideas that could be used.