Poverty, however you define it, still exists in the UK today.
Yet the UK is a 'wealthy' country.  Any Christian should be concerned about such a situation.
As Cardinal Vincent Nichols said in 2014:-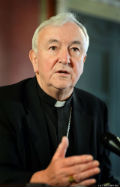 "Something is going seriously wrong when..people  depend solely on the hand-outs of the charity of food banks… These are complex matters and I'm not pretending that they are simple. I'm just saying what I see and hear is people left in destitution and in a country of our wealth that shouldn't happen."    Cardinal Vincent Nichols Feb 2014
Our role as a Commission is not only to support everyone in the diocese who is helping to alleviate local poverty but also to encourage parishioners to examine what the underlying causes of this poverty are – and are there things that we can and should be doing to reduce and even eliminate poverty in our own region.
FIND OUT MORE - DO MORE
CSAN (Caritas Social Action Network)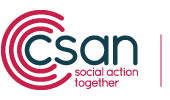 CSAN (Caritas Social Action Network) is the official agency of the Catholic Bishops' Conference of England and Wales for domestic social action.
Their website contains many good downloadable resources and case studies to help us all understand poverty in our country today.    Read More
CAP (Church Action on Poverty)
---

Church Action on Poverty is an ecumenical charity dedicated to tackling the root causes of poverty in the UK. We have a vision of a fairer society with a narrower gap between rich and poor.
Their website is a great source of information about poverty and full of good campaigning ideas.
Housing Justice
Housing is a key problem for many people living in poverty.
Housing Justice is an organisation that grew out of the amalgamation of Catholic Housing Aid Society and the Churches' National Housing Coalition. They are a good starting point for finding out more and seeing what campaigning Christians are undertaking in this area.
What is Poverty?
"Within the community of believers there can never be room for a poverty that denies anyone what is needed for a dignified life."

Pope Benedict XVI – Encyclical letter "Deus Caritas Est.

Find out more about views on poverty