Introduction
Just in the Leeds City Council area, there were around  3000 vulnerable residents who fell into food poverty over the Christmas period.
Now, scale that up across the whole diocese of Leeds and you start to get an idea of the size of the problem of food poverty in our area.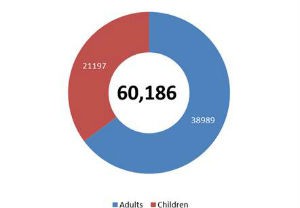 The Trussell Trust is a good source of information. They reported that in the year April 2014 through to the end of March 2015 they provided 3 days of emergency food aid to1,084,604 people across the UK. The diagram shows the figures that apply to the Yorkshire and Humberside region.
The comparable total for 2013-14 was 37,403 – in other words there has been an increase in the use of emergency food aid in our region by more than 50% in the last year.
However, the Trussell Trust statistics do not give the full picture as there are lots of other organisations also doing things to help local people who do not have enough to eat.
In our own catholic communities it does not include
any food distribution done by local SVP groups
other collections & distribution of food via churches (e.g. the Franciscans in Bradford)
regular provision of meals for hungry people(such as the regular scheme at Our Lady of Lourdes in Leeds (in the parish of Jeanne Jugan)
The Commission thinks there is much to celebrate but also much to question.
We must celebrate the time and money that parishioners across the diocese are spending on helping people who, in one of the richest countries in the world, do not have enough to eat.
We must question why this is happening – what are the root causes of this situation and what should we , as Catholics, be doing about them?
Justice & Peace Commission Conference Feb 2015: "Food Banks: Charity or Injustice?"
This conference allowed people from across the diocese, and other Christians, to explore the issue of food poverty in more depth. Some of the stories we heard were shocking and some of the analysis challenged widely held views. You can find out more by clicking on the links in the feature boxes below.
FIND OUT MORE - DO MORE
Analysis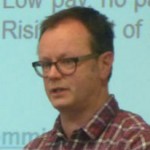 What are the underlying causes for the increased use of Food Banks?
Richard Bridge gave an analysis that provided much food for thought
Survey
Between Dec 2014 and Feb 2015 the Commission undertook a survey across the diocese to find out who was doing what in relation to Food Poverty. We estimate that between 1200 – 1500 Catholics across the Leeds diocese are regularly helping to provide food for local people who do not have enough.