Jan
20
Sun
Peace Sunday 2019: Good Politics Serves Peace

@ National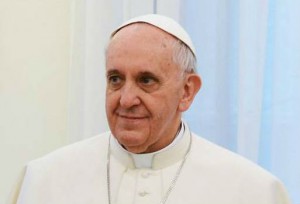 "Political responsibility belongs to every citizen, and in particular to those who have received the mandate to protect and govern. This mission consists in safeguarding the law and encouraging dialogue between the actors of society, between generations and between cultures… Political commitment – which is one of the highest expressions of charity – brings concern for the future of life and the planet, of the youngest and the weakest, in their thirst for fulfilment."
from Vatican Press Statement, November 2018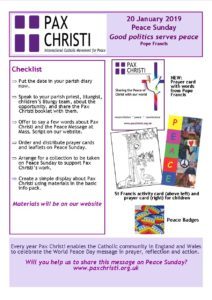 Every year Pax Christi promotes the Holy Father's World Peace Day Message on the 2nd Sunday in Ordinary Time.  This is in the Liturgical Calendar cycle of prayer. Pax Christi  sends resource materials to every parish in the country to help them mark and celebrate the day.
What will you do in your parish?
Their resource book includes sample homilies, ideas for Prayers of Intercession and many other ideas exploring the Pope's theme for 2019.