Sep
16
Sun
World Week for Peace in Palestine & Israel
A week of education, prayer and action for peace in Palestine & Israel, initiated by the World Council of Churches.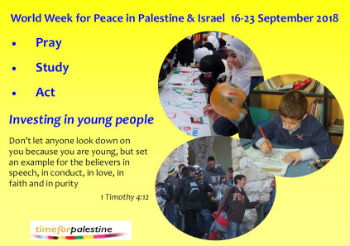 This year's theme is "Youth and Children: Raising Hope and Making Change".
Youth and children are the ones who suffer the most in conflicts and under occupation.
They are also the ones who will hold the future of Palestine and Israel in their hands, the ones we pray will grow up with peace and prosperity.
Resources and details of events from around the country are available from Pax Christi UK
The World Council of Churches also has much background and resource material
World Council of Churches Resources & Info
Nov
10
Sat
Remembrance is not enough

@ Mill Hill Chapel
Nov 10 @ 2:30 pm – 3:30 pm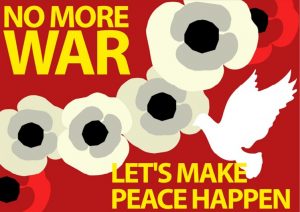 A special service of more than just Remembrance on the eve of the centenary of the 'War to end all wars'. The guest speaker at this service will the Anglican theologian Andrew Shanks.
The Justice & Peace Commission are working with the Leeds Pax Christi Group to put on this event and prepare a special liturgy booklet that will be shared across parishes in the Leeds Diocese. This should be available around the end of September.