This event has been organised by Churches Together in Settle Justice and Peace Group.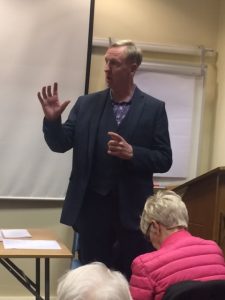 The speaker for this evening meeting will be Sean Ryan,  National Caritas Community Sponsorship Co-ordinator.
Sean spoke at the Leeds Diocesan Refugee Support Group meeting at the end of January (as shown in the photo) explaining how church communities can sponsor individual families. If you want to do more about refugees and live in Craven district then this is a great opportunity to find out more about this scheme and how whole church communities can become involved.