When:
25th January 2020 @ 3:00 pm – 6:00 pm
2020-01-25T15:00:00+00:00
2020-01-25T18:00:00+00:00
Where:
Mill Hill Chapel
City Square
Leeds
LS1 5EB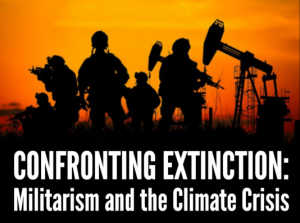 Militarism and the Climate Crisis are inseparable. The US military is the largest institutional consumer of oil in the world, outputting higher carbon emissions than most countries. Armed forces emissions have traditionally been excluded from national reduction targets and have continued to rise, while our dependence on fossil fuels continues to drive conflict and war.
The interdependence of nuclear weapons and civilian nuclear power in terms of skills and public resources means that the UK government continues to champion expensive new nuclear at the expense of genuinely clean wind, wave and sun power.