When:
17th March 2018 – 25th March 2018
all-day
2018-03-17T00:00:00+00:00
2018-03-26T00:00:00+01:00
Fly Kites Not Drones INTERNATIONAL week of action – an 'uplifting' campaign for all ages, to raise awareness about the use of armed drones, and moreover to show solidarity with civilians (especially children) living under the threat of armed drones.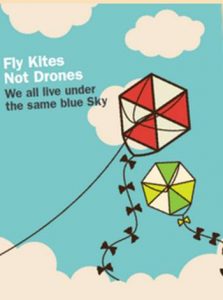 By taking to your local park, beach, play ground, garden, town centre, military base etc. and flying a kite you are actively showing solidarity with all children who live under armed drones.
The campaign was started by young people in Afghanistan who are now too afraid to play in the open, to take part in their most loved past time of kite flying, because of the threat from armed drones.
This week of action coincides with the Persian New Year, Nao Roz, which takes place on the 21st March and is a traditional time of year for kite running.
For kite making instructions:
http://www.flykitesnotdrones.org/resources/workshop4
For the Fly Kites Not Drones Education pack:
http://paxchristi.org.uk/product/fly-kites-not-drones/