When:
2nd March 2018 @ 12:30 pm – 2:30 pm
2018-03-02T12:30:00+00:00
2018-03-02T14:30:00+00:00
Where:
The Leeds Diocese CAFOD Volunteer Centre
62 Headingley Ln
Leeds LS6 2BX
UK

Sophie Aulton is one of CAFOD's interns on their 'Step into the gap' programme. She is based at Leeds Trinity University (second from the right on the front row).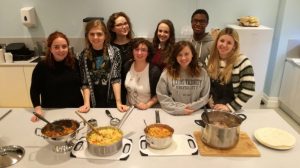 At the end of January CAFOD are sending her, along with some of the people on the programme, on an exposure visit to El Salvador and Nicaragua the rest are going to Sierra Leone). This lunchtime meeting is an opportunity to meet with Sophie and hear about what she did and to get some firsthand information about CAFOD's projects in Central America.
A light lunch will be provided but Bronagh and Joanne request that you please email  the office ( leeds@cafod.org.uk ) so that they have some idea how many people to cater for. There will be a collection which will go towards the amount that Sophie has to raise towards this exposure trip.
ALL are welcome