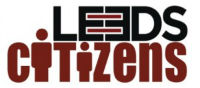 This event has been organised by Leeds Citizens. The J&P Commission are founder members of the over 30 organisations that make up Leeds Citizens (which also include the Diocese of Leeds itself and the parishes of St Augustine's and Newman parish). All our supporters in Leeds are entitled to come along to any Leeds Citizens event. Leeds Citizens brings all sorts of faith-based and secular civil society groups together and works on priorities that they can all agree will improve the lives of everyone in Leeds.
This year ALL the councillors on Leeds City Council are up for re-election. This presents a special opportunity to make sure that the agenda of Leeds Citizens gets a good hearing – and that potential decision makers understand the breadth and depth of support for the Leeds Citizens agenda.
What is this agenda?
A Real Living Wage (as opposed to a re-branded minimum wage) across the city. Citizens has already had an effect in that from 01 April all staff employed directly by Leeds City Council will be paid at least the minimum of the real living wage. Imagine the difference to people's lives this could make if it was repeated across the different sectors employing people in Leeds.
Improvements in the provision of Mental Health services across the city, including securing trained mental health workers for GP surgeries around the city
More opportunities for young people. Leeds Citizens are calling on employers in Leeds to offer 100 new paid work experience placements to help young people get access to the growing industries that will shape the future of our city
These are all aims that the Commission  endorses heartily.
The event will include listening to stories from Leeds residents and seeking support from civic and business leaders who will also be present to improve mental health services, create work experience opportunities for young people and guarantee the real Living Wage for workers who keep our city moving.
Why Bother to come along?
Because you CAN make change happen.
Because when we come together we are so much more powerful than when we act alone – and with over 500 people at City Varieties you will see that in action.
Because you are fed up with calling for change and then nothing really changing.
To commit to going along to this event please register  by clicking on this link
Can you think of anyone who might be interested in going along?
Click on the image to download and print off an invitation that you can give to them. Everyone who wants to attend must register for the event.