This is the date for Peace Sunday. The theme for 2018 is
"Refugees and Migrants: Seekers of Peace"
There are so many people in the Diocese who are part of groups (both parish-based and secular) that are helping refugees and migrants that this theme should resonate strongly with congregations.
As usual, Pax Christi have produced a number of resources for World Peace Day.  A copy of these resources is sent to every parish in England and Wales. However, if you want to actively plan something you can download the same materials directly from the Pax Christi website and you can also order copies of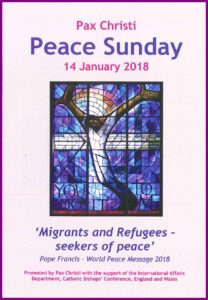 prayer cards and so on from their online shop.
http://paxchristi.org.uk/news-and-events/peace-sunday/
They have a number of ideas for prayers, homilies and, of course, they have beautiful prayer cards that could be given out on this day. It would also be really nice if a few parishes were to have a collection on this Sunday. There is not much of a tradition of doing this in the Leeds Diocese – our Diocese is one of the worst contributors to Pax Christi nationally.