Lucy Irven, the part-time coordinator of The Diocesan Refugee Support Group, has organised this evening information meeting at Wheeler Hall in central Leeds.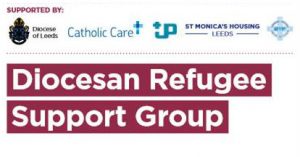 It is about a scheme where whole communities (such as parishes) can 'adopt' a Syrian refugee family. The community has to commit to raising an amount of money and to support the family through the process of integrating their lives into a new country.
The evening will include information about the scheme, first hand accounts from those who have successfully welcomed families, and first hand accounts from refugees themselves. Representatives from the Home Office will also be available to talk about their role and to answer any questions.
ALL are welcome – so just come along on the night if you think this is something that you may wish to explore in your parish community.
ALSO
for those of you in the north west of the Diocese, there is another opportunity to hear about the scheme at St Mary & St Michael parish in Settle on 13 June at an evening event organised by the Churches Together Justice & Peace group in Settle. More details of this event can be found here.