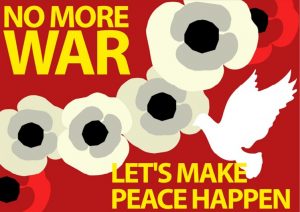 A special service of more than just Remembrance on the eve of the centenary of the 'War to end all wars'. The guest speaker at this service will the Anglican theologian Andrew Shanks.
The Justice & Peace Commission have worked with the Leeds Pax Christi Group to put on this event. To help parishes reflect more deeply about our Christian responsibility to bring Christ's peace, through justice, we have distributed a 'sampler' liturgy booklet  to all parishes in the Diocese of Leeds with local information, a selection of prayers and guidance on where to find out further information. We hope it may be of some use in parishes in preparing liturgies around this time – though we also hope that it will be of use for other times when services emphasising reconciliation take place.
Further copies of our liturgy booklet (which has the same title: "Remembrance is not enough") are available from the J&P office. Just email us.
If you prefer you can download a copy of the booklet here: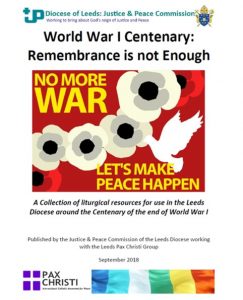 You can also download and print out a flyer for this event and we are grateful to anyone who can advertise it more widely.