When:
9th December 2022 @ 6:30 pm – 8:30 pm
2022-12-09T18:30:00+00:00
2022-12-09T20:30:00+00:00
In conjunction with the Leeds Palestinian Film festival and Pax Christi in the Leeds Diocese we have agreed to host a screening of the final film in this year's film festival.
Full details in due course!
The film we will show is called Boycott.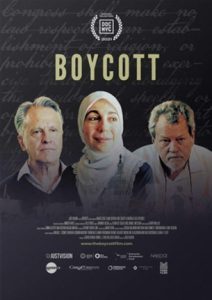 Boycott traces the impact of state legislation in the USA  designed to penalize individuals and companies that choose to boycott Israel due to its human rights record. A legal thriller with "accidental plaintiffs" at the centre of the story, Boycott is a bracing look at the far-reaching implications of anti-boycott legislation and an inspiring tale of everyday Americans standing up to protect their rights in an age of shifting politics and threats to freedom of speech.
Not worried about this as it is about the USA? Then WAKE UP – the Government currently have legislation going through Parliament to enact some similar measures here!