When:
18th January 2018 – 25th January 2018
all-day
2018-01-18T00:00:00+00:00
2018-01-26T00:00:00+00:00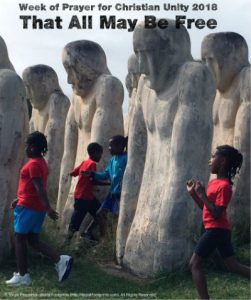 "Praying for the unity of the Church involves a recognition not only of the brokenness of Christian relationships but also how injustice in the world at large rends asunder Christian communities and impedes our participation in God's mission. History too plays a part, casting a shadow over how we live our lives together in community."
This is part of the Introduction to the materials prepared for Christian Unity Week in 2018. The theme follows on very well from the theme for World Peace Day "Refugees and Migrants: Seekers of Peace".
The World Council of Churches have prepared resources to enable Christian communities across the world to deliver special services or incorporate appropriate prayers into existing services. The materials have been prepared by churches in the Caribbean.
You can send off for a printed copy of the resources but they can also be directly downloaded:
Resources for Christian Unity Week 2018