A week of education, prayer and action for peace in Palestine & Israel, initiated by the World Council of Churches.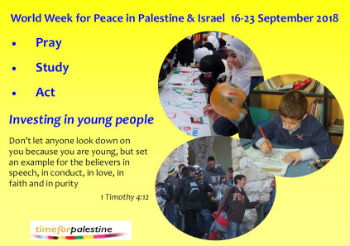 This year's theme is "Youth and Children: Raising Hope and Making Change".
Youth and children are the ones who suffer the most in conflicts and under occupation.
They are also the ones who will hold the future of Palestine and Israel in their hands, the ones we pray will grow up with peace and prosperity.
Resources and details of events from around the country are available from Pax Christi UK
The World Council of Churches also has much background and resource material
World Council of Churches Resources & Info