Food Poverty in Bradford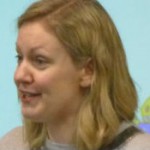 Liz Firth is the development worker for Wellsprings Together Bradford.
Wellsprings Together Bradford is supporting and encouraging individuals, Christian organisations and churches of all denominations to understand and respond effectively to the issues of poverty and social justice for the wellbeing of local communities.
One of the things that this organisation does is host a developing a network of food banks, community pantry and hot food providers from across the Bradford District. They regularly bring together staff and volunteers of these initiatives to offer support, information about funding and opportunities to network.
The slides below are from her presentation where she recounted the stories of some of the people she has met, as well as describing what is happening in relation to food poverty in the Bradford area.
Click on the image to enlarge it and display the forward and backward arrows. Press Esc at any time come out of the slide show