The official list for the Celebrating Young People Awards 2019 was announced in London's West End on the 3 July. Nominations were gathered from schools, parishes and organisations across England and Wales. The awards – now in their fourth year – are powered by the Million Minutes Organisation and honour the achievements of those young people who make our communities and our world a better place. Their achievements are a witness to all of us of the dedication that young people have to make a difference.
From the Leeds Diocese, Tom Allan, Samuel Wilson and Eliza Street were among those recognised and celebrated on the 3 July.
Tom's Story: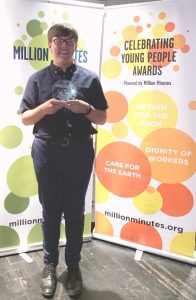 Tom Allan is a 17-year-old who attends St Mary's High School Menston and he received the Barbra Ward Award for Caring for Creation. Since Year 7 Tom has stood out from the crowd and made his belief and passion about the environment known to all. He has been an advocate and student voice of his school's 'Global Warriors' group, which works across the year groups, building whole-school awareness of the need for action by giving regular assemblies and through the Student Voice.
Tom was the driving force behind the school's successful bid to become a Fairtrade school and is a great advocate of CAFOD and all of the charity's work. He has promoted reduced energy days in school and at the moment is involved in steering the move to remove all plastics from our canteen. His environmental efforts across the school captured the attention of the Diocese of Leeds Justice and Peace Commission, and he is the first person of his age to be invited to join them in planning their activities and in managing one of their projects. His chaplain (Julia Findlay) said, "Tom gives selflessly of his time and energy. He lives out Gospel values and teachings and weaves into all of his work the Word of God. His impact and influence on other young people is to be celebrated and we are blessed to have him among us in our school community and Diocese."
You can read about all of the inspiring Award Recipients and those recognised as 'Highly commended' on the award website: millionminutes.org/awards.
At the Awards evening a new initiative called 'Million Minutes of Change' was launched. Million Minutes will deliver a message to the young people of England and Wales, letting them know how valuable and important they are to the Church. Together, they are being invited to create a million minutes of social action to help change the world. More information is available on the website linked to above.