The great illusion of violence is that it will solve our problems decisively. Unfortunately, conflicts often do not end when violence is used; they generally continue to smoulder or escalate. There is always residual resentment and injustice. What is our society's answer to this spiral of violence? More violence. From this point of view, being human means becoming chronically suspicious of a world populated with real and potential enemies, where unresolved hurt and anger are forever mounting. The world can be dangerous, and we face conflicts our whole lives, but are we condemned to an endless cycle of retaliation and domination?
Violence crosses boundaries without permission. Violence disrupts authentic relationships. Violence separates us from others. It defiles the human person and desecrates the image of God. It is a process of economic, gender, racial, social and cultural domination.
FIND OUT MORE - DO MORE
Romero and Nonviolence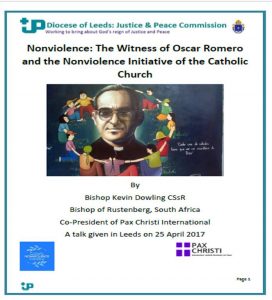 This is the text of a talk given by Bishop Kevin Dowling at a J&P meeting on 25 April 2017. A great background to the Nonviolence Initiative and powerful reminders about the violence in the life of Oscar Romero.
Download the text of this talk as a PDF that can be printed out as a 12 page pamphlet.
THE NONVIOLENCE OF THE GOSPELS
This is the text of a talk given on Peace Sunday at St Benedict's Church in Garforth by Carol Burns and is one of an occasional series of 'thought-provokers' published by the Commission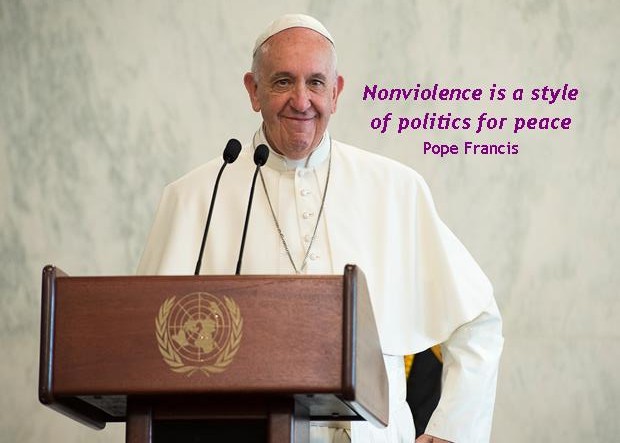 The Nonviolence of the Gospel