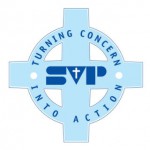 The Justice and Peace Commission is proud to support the the work of those working locally to address issues of Social Justice.
St Vincent's Support Centre in Leeds has been transforming the lives of disadvantaged people in Leeds through practical and emotional support since 1996.
St Jude's furniture depot was established in 1982, and is the central point for collection and distributing furniture to 9 community shops in the Leeds area as well as providing emergency furniture to families in need throughout West Yorkshire.
Together they are projects of the St Vincent de Paul Society (SVP), providing help and support to people living in poverty in Leeds.
CHAS @ St Vincent's is a community project of the SVP operating in Bradford.  Up to April 2012 they were known as CHAS (Bradford).  CHAS @ St Vincent's is dedicated to helping people who are disadvantaged because of poverty, deprivation and circumstances. They help everyone regardless of their faith, beliefs, gender, age, physical and mental ability, sexual orientation or marital status. Clients can get support or free legal advice on debt and housing matters as well as shopping in the furniture and household goods shop.
These are places of help, hope and opportunity for anyone who is deprived of income, employment, education, social networks and community support.  Their aims are to address the root causes of their difficulties and provide holistic support through a range of integrated support services.
For more information about Leeds  please see the St.Vincent's website
For more information about Bradford please see CHAS@Stvincents