Aug
21
Wed
Refugee Action Job Fair
Aug 21 @ 10:00 am – 3:00 pm
Refugee Action Bradford will be holding the first ever Refugee Jobs Event, a chance for refugees and other migrants to meet employers and other support agencies in their hunt for work.  There is also a Messy Play session on the same day at the same time, so families can come down and entertain the children at the same time as looking for work.
Sep
29
Sun
105th World Day for Migrants and Refugees 2019
An opportunity to take part in the this global show of solidarity with those who seek to get to a different country to their own.
Pope Francis, in his message encouraging people to participate in prayer and action on this day, says
"Take courage, it is I, do not be afraid!" (Mt 14:27).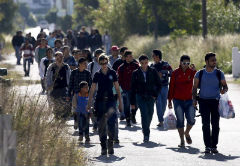 It is not just about migrants: it is also about our fears. The signs of meanness we see around us heighten "our fear of 'the other', the unknown, the
marginalized, the foreigner… We see this today in particular, faced with the arrival of migrants and refugees knocking on our door in search of protection, security and a better future. To some
extent, the fear is legitimate, also because the preparation for this encounter is lacking" (Homily in Sacrofano, 15 February 2019). But the problem is not that we have doubts and fears. The problem is when they condition our way of thinking and acting to the point of making us intolerant, closed and perhaps even – without realizing it – racist. In this way, fear deprives us of the desire and the ability to encounter the other, the person different from myself; it deprives me of an opportunity to encounter the Lord (cf. Homily at Mass for the World Day of Migrants and Refugees, 14 January
2018).
What will you be doing in your parish community?