Jan
20
Sun
Peace Sunday 2019: Good Politics Serves Peace

@ National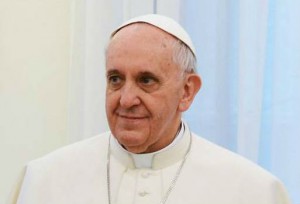 "Political responsibility belongs to every citizen, and in particular to those who have received the mandate to protect and govern. This mission consists in safeguarding the law and encouraging dialogue between the actors of society, between generations and between cultures… Political commitment – which is one of the highest expressions of charity – brings concern for the future of life and the planet, of the youngest and the weakest, in their thirst for fulfilment."
from Vatican Press Statement, November 2018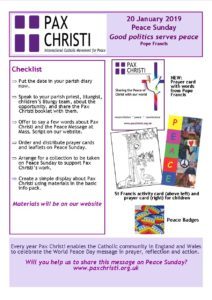 Every year Pax Christi promotes the Holy Father's World Peace Day Message on the 2nd Sunday in Ordinary Time.  This is in the Liturgical Calendar cycle of prayer. Pax Christi  sends resource materials to every parish in the country to help them mark and celebrate the day.
What will you do in your parish?
Their resource book includes sample homilies, ideas for Prayers of Intercession and many other ideas exploring the Pope's theme for 2019.
Feb
25
Mon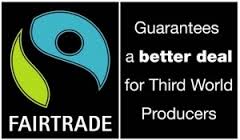 Fairtrade Fortnight will focus on cocoa. Farmers of this iconic Fairtrade product have seen prices crash to crisis levels in the last few years, particularly in West Africa where most cocoa is grown. The situation highlights in stark terms the scandal of unfair trade. We have a choice about whether we take a stand against this.
Many farmers – both men and women – are underpaid and exploited. That means they can't earn enough for the basics many of us take for granted, including food, education and housing, because they don't earn a living income.  It's even worse for the women who work in the fields and in the home. Despite the hard work they put in, they're often overlooked and under-represented, and usually see even less of the money for their crop. They deserve more.
So the voices and stories of women farmers will also be at the heart of Fairtrade Fortnight in 2019. Download the Fairtrade Foundation's Action Guide now:-
Fairtrade Fortnight 2019 Action Guide
Mar
3
Sun
Church Action on Poverty Sunday

Listen to stories of how Church Action on Poverty's work transforms lives and communities.
Commit your church to listen more deeply to people who have been swept to the edges of society by poverty.
Explore new perspectives on familiar Bible stories.
Hold a collection or soup lunch – raise funds to make voices heard, tell stories and call for action.
Use our worship materials to reflect and pray for change.
See their website for more ideas and resources
CAP resources