17 Jan - The Time for Renewal
Contributed by:
Sir John Battle, Commission Chair
Pope Francis wrote of the impact of the Covid pandemic in his encyclical 'Fratelli Tutti':
"Anyone who thinks that the only lesson to be learned was the need to improve what we were already doing or to refine existing systems and regulations is denying reality".
The Covid pandemic has ravaged families and communities and hollowed out many supportive institutions and organisations including many of our Church parishes. Nor is the impact just on underused offices and declining service sector economies in town and city centres. Some, with resources, have actually managed to save and increase their wealth and look to 'return to normal'.
For many, however, Covid has deepened divisions, increased inequalities – hitting the poorest, and the young (children and young people) hardest. Many older people have suffered too, not least from enforced isolation and family loss and grief. Others are experiencing continuing debilitating illness.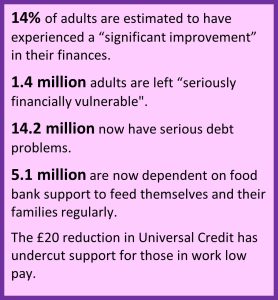 There has been an increase in poverty. Not all workers were" furloughed". Many in part time and temporary work lost their job and thousands of self-employed lost their incomes.
Moreover, as social scientist Rebecca Solnit reminds us, "Ordinary life before the pandemic was already a catastrophe of desperation and exclusion for too many".
The two decades of this century have been characterised by key global events. Following the 2008 financial crisis and the consequent economic 'austerity' measures, political 'populism' emerged in several countries as a reaction. At the same time, the climate crisis began increasingly to be taken seriously.
Now, Covid has struck making a political, economic and social impact locally and globally. Coincidentally, Pope Francis (and some Dioceses in our Church) has initiated a Synodal Process. In his letter to the Church in Germany Pope Francis refers to the challenging crisis of our times: "We all realise that we are not merely living in a time of change but at a change of epochs, which throws up new and old questions in the face of which a discussion is justified and necessary".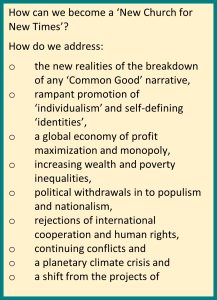 Pope Francis sees the current transformations and in particular the crises in the Church as a "Kairos" for fundamental conversion, a turning to the Gospel and to the margins for a renewal of the "outward facing Church" he outlined in 'Evangelium Gaudium'.
What, therefore, are the questions that we should now be addressing as Church as a whole, as parishes and specifically as the Diocesan Justice and Peace Commission?
The most neglected 'tool' of Catholic Social learning is "PARTICIPATION" which implies building up relational practices through 'deep listening' to develop new leadership through genuinely engaging 'empowerment'.
A Justice and Peace Commission emerging from the Vatican II foundational documents "Gaudium et Spes" and "On the Laity" must now address these questions. Not a charitable service provider itself, its charism is to prophetically raise deeper questions of primary causes; to not lose sight of offering 'utopian', 'Kingdom' alternatives, offering them as challenges to new lay leadership –  not least side-lined young people.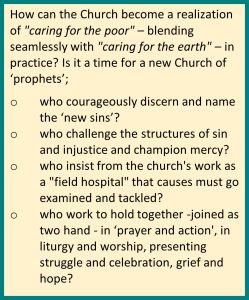 Revealing the reality behind blurring ideologies needs communicating through 'relationary imagery'. As Walter Bruegemmans said, we need to be "making clear that lived life in the world is in fact complex, fluid and filled with risk". In other words, its prophetic role is not just to present researched social economic and cultural analysis, or present facts, but inspire and commit to the Spirit's support to release the potential of the laity in the Church as a whole – as shapers of "a new earth and a new heaven" in our times.
*****************************************