Contributed by Jessica Wilkinson, Youth Coordinator for the Leeds Diocese
It will be probably not surprise you to hear that many young people are passionate about justice and fantastic at social action! Social Action is just part of what they have to do to gain their Faith in Action Award from Bishop Marcus. Established by CYMFed (The Catholic Youth Ministry Federation), Faith in Action National Catholic Award Scheme recognises the achievements of young people as they live their faith, serve their communities and grow in understanding of God's love.
Bishop Ralph Heskett, Liaison bishop for young people, Catholic Bishops' Conference of England and Wales, says in the foreword to the Leader's guide "It allows youth ministers in the Church to celebrate, recognise and reward all that active young people of faith already give to the Church. It also challenges young people to do more to form themselves, deepen their relationship with God and change the world in which they live."
In the Diocese of Leeds, we have developed an adapted version of the award to best serve our young people and it forms an important part of our youth service provision. This scheme provides opportunities for our young people to be involved in on-going formation and catechesis as they move through their secondary education. The introduction of the first level to coincide with Confirmation preparation at the end of primary school will, we hope, become a stepping stone for their continuing involvement in the Christian life.
Earning credits for participating, engaging and leading Prayer, Parish Practice, Pilgrimage and Procession and Social Action, young people reflect on their actions by using Scripture, YouCat and the lives of the saints. It's currently being piloted in 8 settings around the Diocese of Leeds and the feedback is really positive so far. After a review and revisions, the scheme will be launched ready for September 2018. Watch out for new opportunities to engage young people in Justice and Peace, they will be eager to put their faith into action!
Meet the Diocesan Youth Team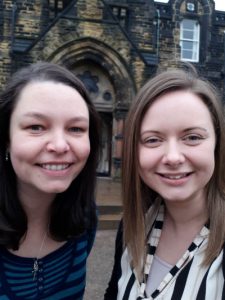 Jade Broadley (Right) lived and worked in the USA for three years with NET Ministries (National Evangelisation Team). Jade joined the team as Youth Officer in July 2017. In her free time Jade serves on the leadership team of Youth 2000.
Jessica Wilkinson (Left) has experience in teaching and Lay Chaplaincy. She took up the role of Youth Co-ordinator in January 2017. Jessica comes from a Salesian background and is a member St John Bosco's lay association, the Salesian Co-operators.