Share the Journey Walks
Various walks have now taken place in support of the international Share the Journey campaign, managed in the UK by CAFOD.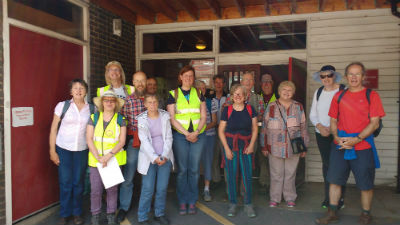 Last month we highlighted the plans for one walk – by the Garforth Refugee Support Group walking from Garforth to the Home Office centre on Kirkstall Road in Leeds.
Most of them completed the 11 miles to the Home Office.
On the 10th of June 2018 Paddy Spiller and Maria Beckwith from Our Lady and St Joseph, Aire Valley, joined with members from their parish and took part in the Share the Journey Walk.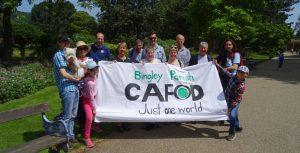 The walk started from the Bingley Fire Station, then via 3 Rise Locks and along the canal bank to Roberts Park, Saltaire. They shared a picnic together around the bandstand.
Year 8 pupils at Holy Family School also took part in a walk.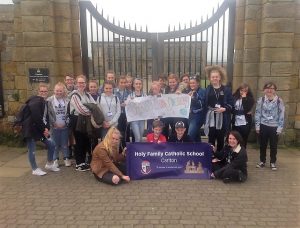 Sara Lambert, Lay Chaplain at the school in Carlton, said "We went to Goathland and Whitby and we walked 12 miles together. There was 25 of us so in total we walked 300 miles! The pupils loved taking part."
One year 8 student said "I don't know how refugees do what they do as I found the walk itself hard for me!"
On 8 July, over fifteen supporters of CAFOD at St Stephen's in Skipton contributed 128 miles to the challenge as they completed a walk down a sunny canal side to Silsden, where they met with another group of Sheila Gregory, one of the walkers, said: "All of us felt the need to walk in solidarity with refugees fleeing war, persecution and poverty around the world.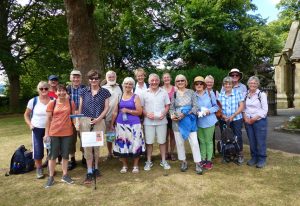 "In a poignant moment, we stopped at the memorial to the Polish airmen and stood in silence to remember all who have died far from their homes.
"We also carried with us a Lampedusa Cross, made by a carpenter on the Island of Lampedusa from the wood of a wrecked boat which had carried refugees."
These gestures of solidarity with refugees around the world are testament to the compassion and desire to 'do something' by many people across the Leeds Diocese.
Update on the Community Sponsorship Scheme for Refugees
On Thursday 28th June, Carol Hill (Director of Catholic Care) attended the National Community Sponsorship Co-ordination Group meeting. She reports: "The news is very encouraging indeed as the swell of enthusiasm for Community Sponsorship increases AND the Catholic Church is the dominant player. There are now 38 Catholic Groups who have formally begun the process to become a Community Sponsor."
Carol commented that "Community Sponsorship is a unique opportunity for communities to welcome and re-settle refugee families, putting local parish communities at the heart of a family's journey to a new life, helping them to rebuild their lives."
If you and/or your parish is interested in becoming a Community Sponsor, please contact the following members of the Diocesan Refugee Support Group.
Carol Hill at carol.hill@catholic-care.org.uk or Lucy Irven at LIrven@catholic-care.org.uk