Here are some of the key points made by our guest speaker at our service at Mill Hill Chapel on 10 November.
Solidarity is one of the basic concepts in Catholic Social Teaching:
"We are all one family in the world. Building a community that empowers everyone to attain their full potential through each of us respecting each other's dignity, rights and responsibilities makes the world a better place to live" Sollicitudo rei socialis – 'On Social Concern' (1987)
In his address at last weekend's service we jointly organised with the Leeds Pax Christi group, our speaker, the Anglican theologian Andrew Shanks, spoke about the 'Solidarity of the Shaken'. This is a concept elaborated by the Czech philosopher and political dissident Jan Patočka.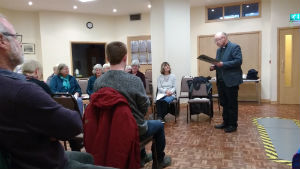 The word solidarity stems from the Latin word 'Solidus' – meaning an entire sum or solid body. In other words, the concept of solidarity seems to lead us towards an understanding of community that rests upon a common and solid foundation. We would thus be in solidarity with others because we have a solid and common ground under our feet: a common cause, a common debt or a common nature serving as the solidity of our solidarity.
Jan Patočka was seeking to describe a solidarity that can exist when those firm foundations have been shaken and destroyed. It is a solidarity that can exist where there is great uncertainty. Andrew then went on to link this to the reading from Amos that he had chosen (Amos 5:18-24). Our current understanding of the book of Amos, he explained, was that it was one of the first books of the bible to be committed to writing over 2800 years ago. It paints a picture of a very different God from that of other cultures:
"I hate and despise your feasts, I take no pleasure in your solemn festivals… Let me have no more of the din of your chanting, no more of your strumming on harps."
Yet, across the region at the time this is precisely the common understanding of what Gods wanted : ostentatious flattery of the Gods was the conventional wisdom of the time.The Hebrew people must, indeed, have been 'shaken' to hear that this was not the nature of Yahweh, to be told that the worship that was expected of them was to be so different from that of all the communities that surrounded them. What was it that Yahweh expected?
But let justice flow like water,
And integrity like an unfailing stream.
The 'shaken-ness' of the often disquieting messages of the Gospel should give us much pause for thought – how much of our lives are the 'Solidarity of the Orthodox' – filled with platitudinous ritual and empty piety -and how much with 'letting justice flow like water'?