By Carol Burns, Leeds Pax Christ group.
In Leeds, a group of women (of faith and none) have gathered together to protest against the Occupation of Palestine.
The first "Women in Black" Vigil was held on Tuesday 6th August from 1:30 – 2:30pm at Dortmund Square. Following vigils will be held on the first Tuesday of the month from now on at the same time and place. All women are welcome.
One member of the group is Ann Tracey (who is a Pax Christi member and parishioner of Blessed John Henry Newman Parish in Leeds) said, 'When we see the blatant injustice of what is happening to Palestinians, we simply must speak out.'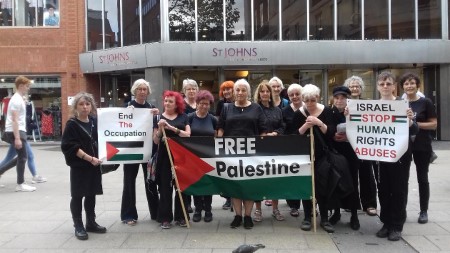 Daily human rights abuses include:
Daily ID checks and military checkpoints wherever you go
201 homes demolished so far this year, families left homeless
Arrests a daily reality – over 7,000 Palestinian political prisoners, nearly 500 of them held without trial
Every year 700 Palestinian children arrested
1 million Israelis living in 'settlements' in illegally occupied Palestine in newly built towns with all modern facilities – while 2 million Palestinians live in Gaza in an "open prison"
Peaceful protests in Gaza met with bullets – 266 shot dead in the last year, 50 were children, 3 medics and 2 journalists -and 3,000 children hospitalised
Palestinian lives are cheap: in the last 10 years 222 Israelis killed by Palestinians, 5,436 Palestinians killed by Israelis
Children aged under 18 subject to military law (nowhere else in the world).
Why are Women in Black doing this?
Israelis and Palestinians are two peoples claiming the same land.
The founding of the state of Israel as a Jewish homeland in 1948 was a catastrophe for Palestinians, ¾ million were expelled from their homes and villages.
During the 1967 'Arab-Israeli war' Israel occupied more Palestinian land, which continues today – defying the Geneva Convention.
Palestine has been illegally occupied by Israel for over 50 years.

Women in Black Internationally
Women in Black is a world-wide network of women committed to peace with justice and actively opposed to injustice, war, militarism and other forms of violence. As women experiencing these things in different ways in different regions of the world, we support each other's movements. An important focus is challenging the militarist policies of our own governments. We are not an organisation, but a means of communicating and a formula for action.
Women in Black vigils originated in Jerusalem, Israel in January 1988 in response to the beginning of the first Palestinian Intifada. The message "Stop the Occupation" appeared on the image of a hand signalling "stop". At the peak of the anti-occupation movement there were 30 vigils throughout the country. Today there are still four regular vigils that have been demonstrating since 1988, as well as many throughout the world.