At their last meeting, on 19 February, the Yorkshire Friends of Sabeel-Kairos group had a speaker, Chi-Chi Shi, Campaigns Officer at War on Want. Her topic was the campaign for morally responsible investment and how local groups could become involved, especially as it related to the Israel Palestine situation (as that is the focus of Sabeel-Kairos).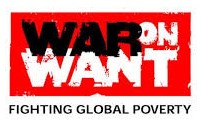 War on Want focuses on the root causes of global poverty, the climate crisis, inequality and injustice. Poverty is political: the choices thatGovernments and organisations make in democratic countries that give rise to (or do nothing about) poverty mean that we were all complicit if we do nothing about it. Such issues of poverty and injustice are often a direct consequence of conflict and war, in which UK companies are often involved.  While the poorest in our society have been suffering from austerity
policies, the Government has been supporting companies to make money from arms deals with countries that do not respect human rights. 
Chi Chi then explained why War on Want supported the Boycott Divestment and Sanctions (BDS) movement in Palestine. The Palestinians were not people to be pitied.  They had been working against the occupation since it happened in the 1940's.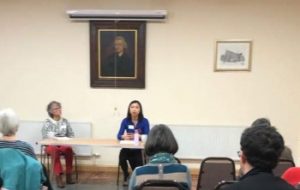 The key difference in the Palestinian situation was the global solidarity movement for peace and justice.  The call for BDS came in 2005, when all of Palestinian society came together and produced a set of conditions which needed to be met.  It was the legacy of decades of resistance for Palestinian rights.
With Trump's 'land grab'; a steep increase in house demolitions and a forcible transfer of prisoners there has been a significant deterioration in the situation in Palestine. All of these are war crimes in which UK companies are complicit.  "Palestinians", Chi Chi said, "are facing an existential threat, with the huge diaspora population of refugees facing an attempt by Trump and Netanyahu to de-classify second and subsequent generation refugees, taking away their right of return to the land."
The principles of BDS were not exclusive to Palestinians; comparisons with the struggle against Apartheid in South Africa and the Civil Rights Movement in the USA, showed that these succeeded and were made possible by support around the world.Further examples quoted included War on Want's campaign in the 1970's against Nestlé products when the company was pushing its Baby Formula, and the boycott of Barclay's Bank due to its involvement in South Africa.  More recently, pressure on G4S to sell its operation in Israel had been successful.  Closer to home, Leeds University has divested from three companies involved in Israel and Saudi Arabia, following student pressure, while demonstrations at UK factories of Israeli arms manufacturer Elbit Systems had in some cases caused the shut-down of operations for the day.
It was natural for individuals to feel powerless, wondering 'what can I do?', but Church members had a responsibility to ensure that their investments were not facilitating human rights abuses.  Obviously, this needs to be a consideration for individuals who have investments in stocks and shares. However, it is also a responsibility for Dioceses across the country to ensure that their ethical investment policies reflect these concerns.