A review by Carol Burns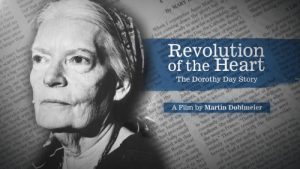 This new documentary by Martin Doblemeier (who has made a number of films previously about people such as Dietrich Bonhoeffer and Reinhold Niebuhr), is an engaging watch. It's just less than an hour which makes is suitable for showing in small groups and it will certainly spark discussion.  You can see a trailer here . http://journeyfilms.com/#
If you don't know much about the founder of the Catholic worker movement you will learn a great deal.
Whilst sympathetic to Dorothy Day and all she achieved it also doesn't shy away from the many contradictions in her life. She was complicated as we all are and sometimes hard to live with. She required great sacrifices from herself and those closest to her including her own daughter.

There are interviews with two of her grandchildren Martha Hennessey who is a peace activist herself and Kate Hennessey the youngest of Tamar's children who has recently published a biography 'Dorothy Day The World will be saved by beauty'( Simon and Schuster 2017) Also interviewed are Jim Wallis of Sojourners, Robert Ellsberg one of her biographers and Martin Sheen, famous for his acting, but also a peace activist of some courage
The documentary is beautifully crafted posing some interesting questions. Was Dorothy Day a Christian anarchist, and/or a very traditional and obedient Catholic?
As well as her commitment to protesting against the involvement of the USA in the Second World War and Vietnam she is also shown supporting other causes such as those of the fruit pickers protest with the iconic photo of her sitting in the midst of the protest with Cesar Chavez.
Dorothy Day believed very strongly in personal responsibility as well as the need to fight structural injustice and the Catholic Worker Houses of Hospitality were the practical outcome of that. British audiences might want to reflect on her judgement that people shouldn't need to go for welfare and that the Worker houses should offer food and shelter. Our very different welfare system may mean that we responds differently to these dilemmas ( for example the London Catholic Worker house offers hospitality to asylum seekers.)
I have read a number of biographies  of Dorothy Day and I still learnt new things about her in this documentary.
I would especially recommend one of the extra features which interviews people with different views about whether she should be canonised. She, herself, is frequently quoted as saying 'Don't call me a saint. I don't want to be dismissed so easily.'
The DVD is unfortunately only available from  Amazon at the moment as the makers of the film don't seem to be shipping to the UK.