By Liz Firth, Commission member, Bradford
I don't think I was the only Bradford resident who was left with very few nails left after the dramatic countdown to the announcement of the winners of the Capital of Culture 2025 on Tuesday 31st May.
It was an absolute delight to hear the news that we'd been awarded the title after a breath-taking bid by the local team.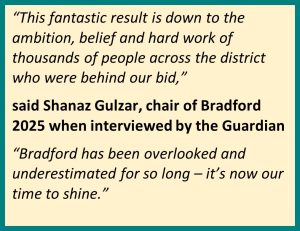 The hope is that Bradford will benefit in the coming years from investment and perhaps a more positive media spotlight.
Having grown up in Bradford and now bringing up my own children in the local area, it's sometimes hard to reconcile the media portrayal of the place I know with the one I have come to know through the lens of an often-critical public perception. That's not to say Bradford doesn't have its challenges. There is poverty, a lack of investment and a lack of the wide range of job opportunities you might want in your city. We are a diverse place, but I feel we suffer from a lack of opportunities for people to come out of their bubbles and get to know others who are different to them.
Despite all of that, I can't imagine living anywhere else. There is a warmth to Bradford which I don't think you find very often. I've been fortunate to work across the Bradford district with many different organisations and groups. I've seen Bradford through the eyes of families who have just arrived from war torn countries to build a new life, they see Bradford as a place of hope. I spent the Jubilee weekend with families who are newly arrived in the city at a party held at the hotel they currently live in which was hosted by the local secondary school and later at the Shabbat service at Bradford synagogue where a diverse group of us from different faiths were welcomed.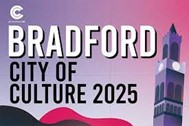 There are so many things that make Bradford unique which I hope will be shared with a wider audience as part of our Capital of Culture Year. We have the most diverse landscape and fantastic heritage. We have amazing museums, galleries, and theatres. As a trustee at the Peace Museum, I'm biased but the range of culture on offer is already immense and will only be strengthened by the award. There are multi faith trails you can join to visit the beautiful places of worship and meet members of the various faith communities. We have several literature festivals as well as so many local and central festivals and celebrations.  
It's no secret that one of the strengths of Bradford's bid was the young people and how their voice was placed front and centre. Over a quarter of the population are aged under 25. This award is a gift to them, and I can't wait to see what they have to offer as the plans for the Capital of Culture year get underway.