Protect the Poor
Contributed by:
John Battle, Commission Chair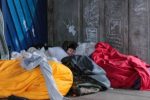 Three of the four horsemen of the apocalypse seem to have ridden into our society. We have had two years of the Coronovirus " plague" and now " war" and for ten years " austerity " which hit the poor hardest and shrank basic public services. Now the consumer expert Martin Lewis has warned that some of the poorest people in the UK will " simply starve or freeze" as the soaring energy prices bite.
Some analysts predict that energy prices ( presently averaging £800 a year ) could now go to well beyond the shockingly expected £1,971 per average household in April up to £3,000 a year when the regulator sets the October price cap. Martin Lewis warns of a return of " absolute poverty… and you know that extreme poverty causes civil unrest". Where this dire prediction lands now depends on the war Russia has embarked on in Ukraine and the world's response particularly in oil and gas markets. Already Europe is returning to Saudi Arabia, Iran and Venezuela to arrange new oil deals. The problem is that we are here far from " all in it together". Ministers declaring that the British public are prepared to accept hardships in solidarity with the Ukrainian people" neglect the uneven impact of increasing fuel and food costs on the least able to bear them. Already announced council tax bill reductions and £200 discount ( in the form of a deferred loan) on fuel bill) have already been swallowed up by the war effect. Moreover it is precisely social security benefits and state pensions that have been pegged back against rising inflation. In other words as Martin Lewis summed up the least able to pay face " a massive lifestyle hit". Nor can the cost of living crisis for the poor be blame on the war or corovirus. Huge benefit reductions baked into the austerity strategy are still working their way through. Little wonder that new " red wall"Conservative MPs, The Resolution Foundation, and the Centre for Policy Studies are jointly pressing the Chancellor in his coming " spring statement " next week to increase benefits( including top ups for the working poor) and the state pension by 8% to give the poor on low incomes a chance of maintaining their their standards at current low levels. While benefits are fixed to increase by 3.1% ( last years inflation) the current 8% inflation prediction will sink millions on low incomes into desperate poverty hundreds of pounds a year worse off. The Joseph Rowntree Foundation estimated that by only increasing benefits by 3.1% over 9 million low income households entitled to means tested benefits ( and many are in work) will lose £500 a year.
The current cost of living crisis is and will not affect everyone equally or even proportionally. Those who are the poorest will suffer most and be forced into really difficult decisions of personal and family survival. Already food banks are clothing recycling projects are being overwhelmed. What has survived austerity, the problem plague and war is people's local spirit of practical solidarity and generosity helping during lockdown, supporting foodbanks and now offering to take in Ukrainian refugees. Alleviating pressures on the poor ( not least by considering rebalancing wealth and windfall taxes ) should be the spring budget priority to establish some basic economic justice.
*****************************************