In-Work Poverty & the SVP
Contributed by:
John Battle, Chair of the Commission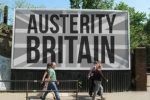 Roy, in his forties, has spent long periods trying to get work as he has no recognised qualifications. The DWP signed him up to an employment agency to be available as a cleaner. He worked on a zero hours contract at irregular hours at the O2 Arena in Leeds until the Covid-19 lockdown. The O2 Arena closed and Roy got told there was no more work. The agency signed him off and he was not entitled to be furloughed on a supportive income. He was recently referred back to the agency to do some hours at the O2 Arena again as it prepares to reopen. His hours are few and irregular. He expected to be paid for them at the end of his first week back for to be told that he would be paid at the end of the month. His DWP payments stopped until he produced wage slips so he could not get Universal Credit. Desperate for money he took £40 from his partner's purse and as a result of the consequent row, their relationship has broken down. He wanted to get back to working he said "I try so hard, am willing to do anything' but working isn't paying the bills".
Roy is one of thousands trying to get back into work after the Covid lockdown, after struggling for months to survive with the help of a local foodbank. He worries that failing to keep up with his rent, which is in arrears, will now mean his family lose their home.
Over 130,000 households in England were made homeless during the first year of the pandemic, despite the Government's ban on evictions. Our local parish SVP conference alone has helped four evicted families reestablish a home in the last six months.
The special contribution, that special 'charism" of the SVP is a quiet, understated rootedness, tuned into and in regular contact through its members with people, individuals and families in real need. Our support and comment is fully derived from their lived, and suffering, experiences, shared with us as SVP members. That privileged 'access' puts us in a uniquely responsible position to act.
In 1984, I was appointed as the first director of the ecumenical charity Church Action on Poverty and our first published report was entitled "Low Pay; The Cause of Poverty". Today more than half the people living in poverty in Britain are in work, and for millions working 'flexibility" is a tool for generating their poverty. In the decades since 1984, the perceived stigma and shame around "welfare benefits" has not dissipated. Often inaccurate media reports of "the workshy', "scroungers" and 'freeloaders" persist and the 'welfare state" is more than ever regarded as an unwanted prop for the lazy unemployed. It is not viewed as a support for the low and underpaid in work, even though it remains true that the majority of the poor in our society are actually working. Despite recent reforms, the introduction of 'universal credit" and the merging of benefits to streamline the claiming system, the welfare state is not a safety net for thousands in work, especially those in temporary, part time work, on zero hours contracts or self-employed. Moreover, most work is in the expanding service sector of the economy (especially retail and distribution) that has replaced manufacturing in recent times as basic employers. There are now more part time workers relative to full time than there used to be. Currently some 6 million people are claiming Universal Credit as a low income work top up or unemployment benefit. In 2008 the Labour Government relied on the introduction of tax credits as a permanent income boost in good times and as a life boat in bad. It supplemented the wages of those working part time until George Osborne axed it as part of his 'austerity cuts" to the social security budget. With the Covid crisis the furlough scheme effectively replaced it but despite a sharp increase in take up during the pandemic as millions of jobs were lost and workers' hours reduced, the "Welfare at a Social Distance Project' recently spelt out that over 500,000 people actually entitled to Universal credit support do not claim it, not least because of the associated stigma.
Young people are the least likely group in our society to seek help despite being amongst the hardest hit during the pandemic. 24% of 18 -34 year olds are using 'buy now pay later' offers to pay their bills for food, a phone, energy and water costs, the internet and rents. They are piling up the most unsustainable debts.
Furthermore 2 million people earning less than £122 a week are not eligible for statutory sick pay. Those who most need sick pay are barred from receiving it because they are too poor! Two years ago the government promised "extending the protection to those earning less than the lower earnings limit"; it has yet to happen.
The Resolution Foundation think tank has also spelt out that the pandemic has shone a spotlight on the flaws and gaps in the current welfare system. Nearly a third of people earning between £10,000 and £20,000 per year have reported a decline in their finances during the pandemic according to research by Scottish Widows. They estimate that 14 million have suffered a hit to their income, affecting their ability to pay essential costs since March 2020. The number of people in debt soared from 1.7 million to 2.4 million between March 2020 and January 2021 according to the charity Step Change. Reduced social security, low wages, and high rents have left 2.4 million people living in destitution needing help with food, clothing, and hygiene products and studies have shown that low income families have been disproportionately affected by the pandemic crisis with more than a third seeing their incomes squeezed as a result of higher fuel costs and food not least while at home under lock down. Self-isolation and home schooling put families under increased financial pressure as people lost wages and jobs.
Put simply, millions work but do not take home enough money for them and their families to live on and the pandemic has made things worse. Increasingly they are referred, even by the DWP to go to charity food banks rather than get support and entitlements from the state. Food bank use increased by 33% during the pandemic. The Trussell Trust reports distributing 2.5 million food parcels between April 2020 and March 2021 and this is only a fraction of total food aid given out by local authorities, schools and charities including the SVP.
Our own St Vincent's Centre in Leeds was quick off the mark at the start of the Covid crisis and distributed thousands of food parcels and meals, earning a reputation a one of the City's 'lifelines". But as the Independent Food Aid Network puts it "Food banks cannot continue to take responsibility for the impact of insecure and inadequately paid employment". Yet when pressed to keep the £20 Universal Credit uplift, the Prime Minister simply reiterated the worn out refrain "Getting people into work is the best route out of poverty". But charity is not the solution to in work poverty
*****************************************