Ukraine - What should we do?
Contributed by:
John Battle, Commission Chair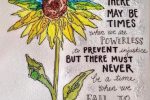 Ukraine is an independent country of 44.7 million people with an elected government and President taking its place in the United Nations. Yet, as a result of Russian military invasion and bombing attacks, nearly 2 million (mainly women and children) have had to leave their homes and flee the country as refugees seeking help from relatives abroad or seeking asylum. Notably, the Syrian crisis resulted in a million refugees some years ago yet already the numbers heading out of Ukraine suggest the greatest ever refugee crisis in the West. Poland alone has already taken in over one million. Those remaining behind are being forced to shelter underground to avoid being bombed and already thousands across the cities of Ukraine have been killed. Millions have been internally displaced. The world watches on and waits as millions now face more bombing destruction and city sieges starving people of food water and medical treatment until Ukraine surrenders.
Evidently Putin's campaign regards civilians as dispensable in his determination to get control of Ukraine. He claims that Ukrainians do not exist as an independent people and therefore they are disposable. So far, the courageous Ukrainian people led by their President have clearly demonstrated their sense of independent identity and determination to resist violent takeover and suppression.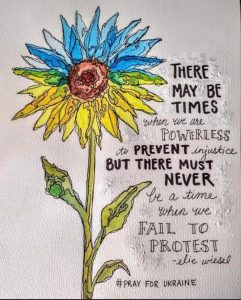 The head of Ukraine's Orthodox Church Metropolitan Onufriy Berezovsky has appealed directly to President Putin to stop the war reminding him that "the Ukrainian and Russian people came out of the Dniepo baptismal font and war between these peoples is a repetition of Cain's sin. This war has no justification for either God or man". The Roman Catholic Bishop's Conference of Ukraine while pleading for peace says armed resistance to Russia is now necessary and called on all Ukrainian citizens to take up arms to "defend the motherland ". The leader of the independent Ukrainian Orthodox Church said economic sanctions are a start, but the international community must do "all in its power to stop the aggression immediately". The Catholic Bishops in Ukraine along with priests and religious sisters are staying with the people and doing their best to keep churches open to provide practical pastoral care.
Closer to home our Catholic Bishop's Conference have asked the UK Government to "work for a swift resolution" and "to act to help refugees from the conflict" noting that the Ukrainian people have "suffered from Russia's illegal military actions since 2014 and now face a catastrophic escalation of violence. […]As the crisis worsens it is essential we also provide humanitarian assistance and offer sanctuary to people who are forced to flee their homes".
Caritas Poland is now coordinating refugee relief efforts in Poland but say they need more help from the West; "we need other countries to open their borders and their hearts to these poor desperate people". Here, CAFOD, a major partner in the Disaster Emergency Committee (DEC) set up in the UK now needs financial donations. CAFOD already has 25 welcome centres in the Ukraine providing food shelter and support.
Watching the daily news reports of the progression of the Russian invasion can reduce us to a deep sense of powerlessness and inability to do anything but turn away in anger and shame in the face of the seemingly inevitable deaths and destruction. Watching the Soviet invasion of Hungary in 1956 the Polish poet Zbigniew Herbert wrote:
"We stand on the border
called reason
and we look into the fire and admire death".
His pessimistic assessment of the reaction to the Hungarian uprising is not surprising and is now being repeated. We are called to assert life, however difficult that task, in the face of death.
As well as raising funds for humanitarian relief and welcoming refugees we need now to be pressing for safe zones from bombing and missile attacks and corridors for humanitarian civilian escape. Some years ago, the United Nations agreed on the 'responsibility to protect' (R2P) policy which commits the international community to provide diplomatic, humanitarian and, if necessary, the military means to protect populations from genocide, war crimes and ethnic cleansing. That policy now needs international coordinating action.
In the meantime, now is the time to back CAFOD and pray both for Ukraine and the Spirit to spark a positive peaceful internationalist response.
When over 90,000 men women and children 'disappeared' from the face of the earth in Latin America in the late 1970's, as part of the work to find the missing, the Argentinian 'Mothers of the Plaza de Mayo' published their poems 'Songs of Life, Love and Freedom' to present the experiences of the relatives of missing ones.
'No One Will Take You From Me' concluded with the lines:
"Laugh my son. No one can rob me
of the beauty, the moral richness that you left me
the greatness of feeling and of soul
a new world which you opened at my feet

Why did they punish you my son without even
giving you a chance to defend yourself?
But your purity, your joy and your nobility
the wicked could not destroy."
PRAYER FOR UKRAINE
Loving God,
We pray for the people of Ukraine,
for all those suffering or afraid,
that you will be close to them and protect them.
We pray for world leaders,
for compassion, strength and wisdom to guide their choices.
We pray for the world
that in this moment of crisis,
we may reach out in solidarity
to our brothers and sisters in need.
May we walk in your ways
so that peace and justice
become a reality for the people of Ukraine
and for all the world. Amen
*****************************************