Pope Francis has instituted a new 'World Day of the Poor', inviting us "to embrace the culture of encounter" and to understand that sharing with those living in poverty "enables us to understand the deepest truth of the Gospel".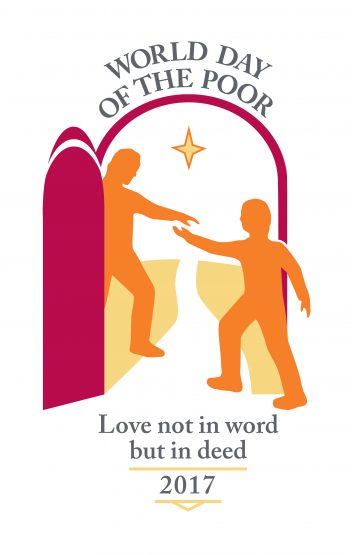 In his message for the first World Day Pope Francis asks all of us, whatever our means or background, to unite in love, in acts of service to one another and in genuine encounter.
So what can we do to mark this Sunday in our parish liturgies?
The good news is that there are readily available resources with loads of ideas that you can just pick up and use 'out of the box'.
If you want to hold a special liturgy or incorporate some specific prayers into the masses on that day then CAFOD have collected together all their resources that are suitable onto one webpage:
https://cafod.org.uk/Pray/World-Day-of-the-Poor
CSAN (Caritas Social Action Network) has put together a fairly comprehensive set of resources – including suggestions for liturgy groups – including childrens' liturgy groups – intercessionary prayers, Homily Notes as well as testimonies so that the voice of the poor can be heard. In addition there are 'print ready' materials so that posters and prayer cards can be printed out if you so wish. Their website has all the details:-
http://www.csan.org.uk/worlddayofthepoor/#Print
With these resources every church can mark this special day in some respect.
Bishop Marcus will be celebrating a special mass on this theme at 11:00 on this day at St Anne's Cathedral and there will be a Pastoral Letter that will be read in all churches.