This update on one parish's work towards the Live Simply Award has been provided by Michael Emly
What will help the "average parishioner" engage with the Church's social teaching? What will build unity in a parish formed by the merger of 3 formerly independent church communities? How can we make Pope Francis' teaching in 'Laudato Si' better known? These were three of the aspirations that led the parish of Our Lady of Kirkstall in northwest Leeds to decide to work towards certification by CAFOD as a "Live Simply" parish.
CAFOD's website (https://cafod.org.uk/Campaign/How-to-campaign/Livesimply-award) sets out very clearly

what is involved in the Live Simply award. A parish (or school) commits to living SIMPLY, SUSTAINABLY with creation, and IN SOLIDARITY with people in poverty. At the beginning of the process, an action plan is drawn up of how the parish will put these principles into practice. The plan should include not only activities already in place but also new developments or projects around each of these themes. Once the parish feels that it has made sufficient progress and can demonstrate this fact, then it invites CAFOD to visit and hopefully validate the award.

In Our Lady of Kirkstall, the parish CAFOD Group began the process in Summer 2016 by discussing the Live Simply scheme with our parish priest, Fr. Pat Smythe, and then taking a paper to our Parish Council. Everybody could see the opportunities for parish renewal and growth and a decision was taken to embark on the Live Simply journey. In March 2017, members of the parish council spoke at all 6 Masses in the parish and a questionnaire was handed out to everyone at Mass in order to establish where members of the parish already stood on a number of matters, including recycling, involvement in "green" issues and how they travelled to Mass. Two open meetings in the early summer provided an opportunity for anybody who wished to feed into the process of drawing up an action plan, and the parish formally registered with CAFOD in September 2017.
Our Lady of Kirkstall could already demonstrate its substantial commitment to the theme of living in solidarity. As well as supporting CAFOD and the SVP, our parish community provides the base for 2 registered charities, one engaged in healthcare in South India (the Sylvia Wright Trust) and one providing wide-ranging support for development in East Timor (the Peter Trust). However, many in the parish had been very moved by the plight of refugees from Syria and we decided that we wanted to build an ongoing commitment to welcoming and supporting refugees Building on our current practice of organising collections for various charities active locally, we hope also to provide encouragement and opportunities for people to engage at a more personal level. For the theme of living simply, we decided to produce a special monthly bulletin which would promote three "practical challenges" for that month and give a couple of short quotations from Laudato Si'. This bulletin also provides an opportunity to communicate the wider vision and involve parishioners in the various projects.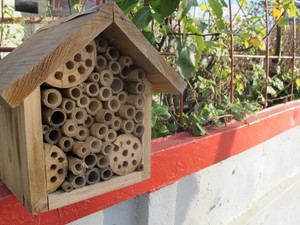 It is however on the theme of living sustainably that our plan is starting to become really exciting and showing potential for bringing the parish together in all sorts of new ways. Our plan always envisaged developing the use of the land around our 3 churches in order to bring people closer to creation. As we started to draw up firm plans, we discovered that Leeds is one of 8 cities involved in a national project called Urban Buzz which aims to increase the number of urban habitats for pollinating insects.
See https://www.buglife.org.uk/urban-buzz. Such insects are essential to the life-cycle of many crops and garden plants, but the countryside no longer offers such a hospitable environment because of agricultural monocultures and the use of pesticides. In contrast, urban parks and gardens already provide many plants rich in pollen. Urban Buzz works with schools and community groups to develop these and other spaces with this in mind. Planting native plant species such as primroses, bluebells, ox-eye daisies and campions is particularly encouraged. What this means in practice can be illustrated through the plans for just one of our churches, which has a plot approx. 20m x 5m down one side of the land between the church and the road. Currently, this is under grass and one end is shaded by a number of established deciduous trees. We would like to make this a more attractive feature for the community while providing a better habitat for insects. And for the changes to be sustainable, the maintenance requirements need to be low. After discussion with the project officer from Urban Buzz, our provisional plan includes:
Planting bulbs (snowdrops, crocus and English bluebells) under the trees.
Clearing an area of grass in the more open part to sow a small wild flower meadow.
Stopping mowing close to the boundary wall and allowing ferns, etc. to grow to provide cover for insects. Perhaps add some hellebores.
Putting up "bug hotels" to provide shelter for invertebrates.
Building compost bins to allow garden waste to be recycled.
An appeal for volunteers identified several individuals who would be interested in helping with this project. Discussions with the parish uniformed organisations (scouts, guides and their younger equivalents) are also proving fruitful and we plan to identify specific projects or activities which each group can undertake as part of their work for their badges. And our two parish primary schools are both keen to become involved.
The "gardening project" is already demonstrating its potential for bringing together parishioners, schools and uniformed organisations with a common vision. Hopefully, it will increase our awareness of the beauty and complexity of God's creation and of our own responsibility to support and maintain the natural world. Pope Francis writes: "Our insistence that each human being is an image of God should not make us overlook the fact that each creature has its own purpose. None is superfluous." (Laudato Si', 84) Similarly, the 3 strands of the wider Live Simply programme are making us more aware of the interconnectedness of Catholic social teaching and helping us to understand what a gift we have received in the teaching of the current pope. "Everything is connected. Concern for the environment needs to be joined to a sincere love for our fellow human beings and an unwavering commitment to resolving the problems of society." (Laudato Si', 91)
For Our Lady of Kirkstall, this is still an early stage on our journey. Whether we will realise all our ambitions remains to be seen. But we hope and pray that the Holy Spirit will inspire and teach us along the way.