We asked people who attended our Live Simply Workshop in June 2017 if they had done anything following it. At the start of January Michael Emly gave an update from Our Lady of Kirkstall parish in NW Leeds. Here, Janet Almond provides an update from Good Shepherd Parish in Mytholmroyd.

As with everything, it is getting started that is the initial hurdle. However, as a community, and on an individual basis, members of the Good Shepherd parish have and continue to participate in a number of activities and have made a number of changes that move us in the direction of living more simply, more sustainably and more in solidarity with poor people across the world. We may not have formally signed up to the Live Simply Award scheme as yet but it is a definite intent.
These actions have included
– Installing solar panels to help put energy back in to the system.
– A parishioner has planted and nurtures an orchard on what would otherwise have been a small redundant piece of land beside the car park for the church.
– There is a policy to use/change to Fair Trade and Eco friendly products within the Parish Centre.
– The children are holding fund raising events to create a (CAFOD) virtual village, with chickens, donkeys etc.
– Parishioners are involved in the Ebenezer Food Bank in Halifax and with St Augustine's. This assists refugees.
Others help with 'pay as you can' cafes and soup kitchens in the valley.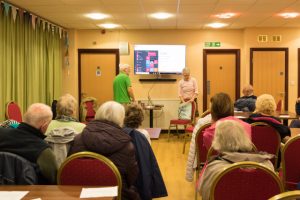 In June, a parishioner and volunteer from the Ebenezer Food bank came and gave a presentation about the food bank, and the work involved.
The parish centre toilets have been 'twinned' following fund raising by the children and young people of the parish. Toilet twining is through a charity (toilettwinning.org) linked to Tearfund. They provide toilets/latrines/sanitation/hygiene education in Asia & Africa. For £60 you can twin with one latrine, £240 with a block (in an education centre or similar). The organisation sends you a framed photograph of the toilet you've funded – one of our Parish Centre ones is in Guatemala.
Another thing we've done is arrange for battery recycling from the church. A company called Valpak provides boxes and collection free of charge.