The Diocesan Refugee Support Group meeting at Hinsley Hall was packed out last night with over 100 people squeezing into the room from all parts of the Diocese, including Huddersfield,  Mytholmroyd, Settle and Knaresbrough – as well as parishes more local to Hinsley Hall.  It was an opportunity to take stock and consider what more individuals and parishes can do.
 The meeting was organised by the part time facilitator – Lucy Irven – and was led by two of the Steering Group: Carol Hill, Director of Catholic Care, and John Battle, Chair of the J&P Commission.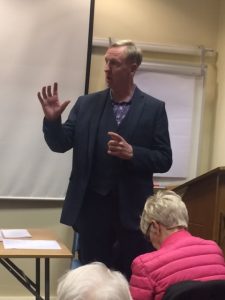 Carol introduced Sean Ryan from Caritas Salford. He is the National Coordinator for the Caritas Social Action Network (CSAN) of the Community Sponsorship Scheme. It was a parish in the Salford Diocese that first took up this scheme. It enables church communities to take responsibility for sponsoring a refugee family until they become fully integrated into the local community. There were some very positive stories both in terms of the integration of families into the local community and in terms of bringing all sorts of people in parishes together to share the work and, in so doing, making their parish communities stronger. Is this something that might work in your parish? – This was the challenge that he posed to everyone in the meeting.
 John Battle then introduced several organisations working in the Leeds Diocese area who need additional volunteer support. They were each given 5 minutes to describe what sort of work they did and what additional help they needed. John stressed that, rather than thinking that it was up to everyone at the meeting to individually volunteer it would be so much more powerful if they were to take information back to their local church community and to personally pass it onto at least 3 other people.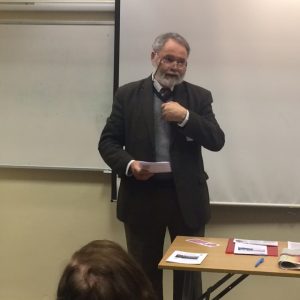 Brian Hamill from Wakefield City of Sanctuary described the opposite situation to the well-organised Community Sponsorship scheme. Destitute asylum seekers have no recourse to public funds and Brian was keen to stress the immorality of leaving people without any security of accommodation or food. He felt this was an area where the Catholic Church could take more of a leading role. City of Sanctuary provides all sorts of services for such asylum seekers – services that are repeated in other parts of the diocese through the efforts of secular and church organisations such as the WYDAN (West Yorkshire Destitute Asylum Seekers Network) winter accommodation scheme or Inn Churches in Bradford.
Another organisation working with failed asylum seekers is St Monica's Housing  and its work was described by John McLaughlin, Commission member, and Sheelagh Pickles, from John Henry Newman parish. They described how they already manage  one church property that can house  6 failed asylum seeking women and they are hoping to obtain another property soon in the Harehills area of Leeds. This organisation provides accommodation for up to six months to give the women time to re-apply for refugee status and generally to help sort out their affairs.
Through the Refugee Council presence in Leeds two former asylum seekers told a little of their stories. One has now been in the country for 16 years – but only in the last three years has she obtained leave to remain. The other was on the verge of suicide and it was only the kindness of a GP that enabled her to turn a corner and keep going.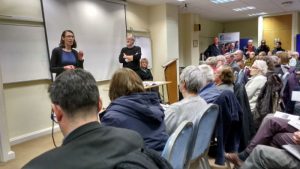 Julie Linley (another J&P Commission member) briefly recounted the work with refugees  that  takes place at the St Vincent's Support Centre on York Road in Leeds.  This work is in addition to the over 100 hundred refugee families that have been helped by individual parish SVP conferences in the Leeds Diocese over the last 12 months. There are English language lessons, legal advice and help with filling out all manner of forms – as well as helping people with more general queries.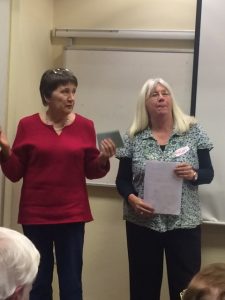 Dot and Helen described the work of the Conversation Club. It meets every week at Mill Hill Chapel in central Leeds on a Thursday afternoon. Refugees and asylum seekers can drop in and have a friendly conversation, in English, with a group of local volunteers. It is an opportunity to be somewhere where they do not have to explain themselves but can have or join in a conversation or play a game that will help them to develop their English skills in a relaxed and, often, fun setting.
For further information about any of these or other actions that parishes could take then please get in  touch with the Diocesan Refugee  Support Group Facilitator, whose role is administered through Catholic Care :
Lucy Irven