by Sophie Aulton the CAFOD Step into the Gap volunteer at Leeds Trinity University.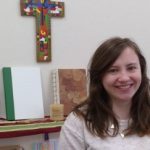 I have recently returned from a two-and-a-half-week trip to El Salvador and Nicaragua as part of my gap year on CAFODs Step into the Gap programme for 18-30 year olds. Before the trip, I had few expectations never having visited a country in Latin America. I could only read up on CAFODs notes on the history and current situation in Central America to prepare myself for the visit. The training days filled with warnings of dengue fever, sexual assault, armed robbery and gang violence made me slightly uneasy about making the 10,500-mile trip to some of the most dangerous and gang ridden areas in the world.
To my utter bemusement, upon arrival and the subsequent days I spent in El Salvador and Nicaragua I did not feel unsafe once. This meant I was able to concentrate on what I had been sent out to do: experience the work that CAFOD does first hand.
Our time in El Salvador was split into two. The main chunk of our time was spent in the rural area of Guaymango. There we were able to experience life with families who had received help from CAFODs partner Solidarity Services Association CVX. All the families were farmers who had been struggling to produce enough food to eat and sell. This was largely due to the loss in traditional farming techniques and crops. Solidarity Services Association CVX was able to help the farmers by teaching them farming techniques that had worked for many years and giving them traditional crops that could survive in the harsh monsoon climate of El Salvador. In addition, families were also given assistance with their bee keeping.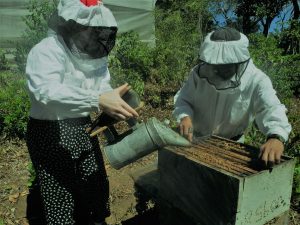 Before this help, the bee hives were hard to get into, and the honey comb could form naturally meaning that the process of getting honey was slower and less efficient. By giving the farmers bee keeping frames, more honey could be generated, meaning the farmers were able to sell more honey. The rest of our time in San Salvador was spent with CAFODs partners in the city, one of whom was a group on nuns that lived in a gang ridden area. One of the projects we saw was the 'Saturday Club'. This was a place where children could go to do activities such as dance, sport, and music. The idea of the club is to build up a sense of community whilst preventing children being on the street and exposed to gang violence and the pressures of joining a gang. Another project was a weekly occupational therapy group for women of the same area. When we visited, they were making cards. The activity only used simple materials like ribbon, card and wrapping paper with pictures on to decorate, however the affect that making something so simple was immediately obvious. When the women were making their cards, there was endless chatter (all in Spanish of course!). We immediately saw the sense of community that the meetings created, and the effect that it had on the women personally. Each person was so proud of what they made, some would give them to family members, others would use them for decoration in their own home, it didn't matter what they would do with the cards afterwards, the process of making one item was enough to bring joy to all of them.
We spent less time in Nicaragua. However, we were able to spend several days with two of CAFODs partners, John XXIII Institute and Mary Barreda Association. With the John XXIII institute we saw the positive effects that loans had on individuals and families. The way the loans worked was simple. An amount of money would be borrowed, and an agreement would be made as to how frequent and how much the repayments were. In addition to the flexibility of the loan, only half of the amount that was borrowed had to be repaid, meaning that individuals were not lumbered with debts they could not repay. One man we met who had used John XXIII loans had been able to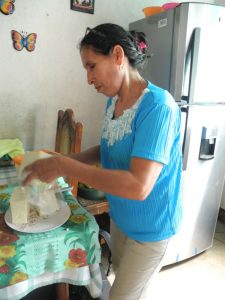 open a shop with his mother. The money they borrowed had been used to buy a fridge and a freezer, with these they bought and sold things like milk and cheese from their own house, and had a profitable business, and source of income.
The Mary Barreda Association was set up to help with Nicaragua's prominent sexual exploitation and trafficking issue. Marry Barreda Association helps young women who are being sexually abused, exploited, or in a situation of prostitution.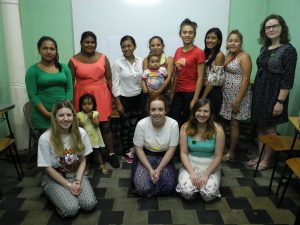 They are able to work to remove them safely from these situations, then follow that up with help to give them skills that provide opportunities for employment. Their work also centred on young people, making them protagonists combatting physical,.psychological and sexual violence Returning from the trip made me reflect on just how much I had learnt from these experiences. Actually seeing CAFOD's work in action made me realise the very real connection between those fundraising in the UK and the people that were being helped on the other side of the world. It forcefully slotted into place the process that CAFOD goes through: building relationships with people and partners to ensure that the best possible outcome is achieved and ensuring that people's donations are going to projects that will carry on helping people as much as possible.
I feel extremely privileged to have been given the opportunity to go to Central America, not only because of the people I encountered, but the skills I learned when I was there. I can now say that I have been in multi lingual meetings discussing project development and outcomes of funding! I have worked through a translator while still having a personal encounter with individuals; I have represented a charity overseas, acting as a mouth piece for people both in the UK and then back home for those from El Salvador. It was a truly unique and enlightening experience that has allowed me to grow as a person.