Pope Francis launched the 'Share the Journey' campaign in September 2017.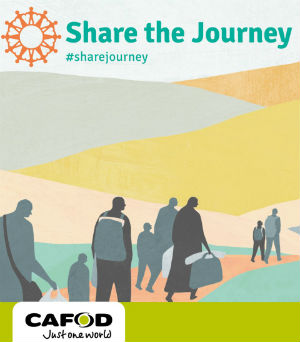 The campaign is about getting world leaders to endorse new UN agreements on refugees and migration – and they are meeting at the UN in September where there is an opportunity to do this.
There are petitions to sign and, in particular, the campaign is asking church communities across the world to 'share the journey' that refugees and migrants are forced into by undertaking a walk of their own. The hope of the organisers is that altogether, the walk will enable them to say that supporters of the campaign have walked around the world (24,900 miles)!
In the UK CAFOD is a leading partner in this campaign. If your community is really stretched, then the least level of support would be to encourage people to sign the petition to the UK Government asking them to support these new UN agreements.
The petition urges the UK Government and other world leaders to develop a united, global response which addresses at a fundamental level many of the problems that we see today: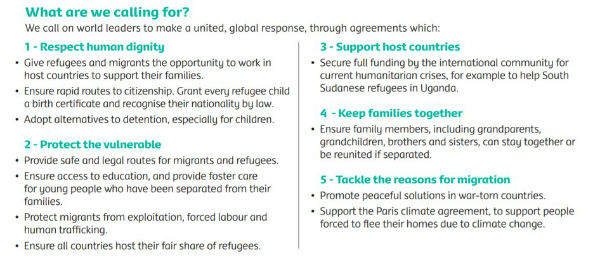 A much more powerful witness would be to organise a 'Share the Journey' walk in your community – or with neighbouring churches or Churches Together groups.
CAFOD have a range of resources to help you do this – ranging from how to organise a walk, health and safety advice through to prayers that could be used in parish masses and other services.
CAFOD Share the Journey Resources
The walk doesn't have to be a gruelling ramble! – some communities have just walked around their church. There are all sorts of ways in which you could show your solidarity with refugees and migrants across the world and play an active part in this campaign.
We are particularly promoting this action this month because June 18-24 is national Refugee Week – the UK's largest festival celebrating the contribution, creativity and resilience of refugees.
Several walks are in the process of being organised within the Leeds Diocese.
GARFORTH REFUGEE SUPPORT GROUP 'SOLIDARITY WALK'
Thursday 21 June 09:30 – 14:30
One definite arrangement has been put in place by the ecumenical Garforth Refugee Group (which includes parishioners from St Benedict's) with support from a new refugee support group that has started up in Newman parish in East Leeds. They have organised a 'Walk of Solidarity' for Thursday June 21st.The full walk is about 11 miles and takes up much of the day. It will go from St Benedict's Church and the walking bit of it will finish at the Home Office on Kirkstall Road. So, they are encouraging people to join with them for sections of the walk if they feel unable to or cannot take the time to do the whole walk.
One of the organisers, Dot Read, commented that "This is not a sponsored or protest event but simply a way of registering our support for refugees".
The route and stages of the walk are as follows:-


1. St Benedict's – St Theresa's (3.5 miles)
2. Break at St Theresa's approx 10:45-11:00
3. St Theresa's – St Vincent's Support Centre (3 miles) – where many refugees go for help & support
4. Lunch at St Vincent's approx 12 noon-12:30 (An Excellent café!)
5. St Vincent's – Waterside Court (3.5 miles)
6. Bus into Leeds City Centre and visit to the Conversation Club for Refugees at Mill Hill Chapel
After the lunch break the group will walk onto the Home Office Visa and Immigration Centre located at Waterside Park on Kirkstall Road – another place that asylum seekers and refugees will be familiar with. This is where the formal walk will end. However, everyone is invited to take the bus back into the centre of Leeds and join the English Conversation Club for Refugees at Mill Hill Chapel (in City Square) for tea and cake.
Note that all times are approximate!
If you want more detailed information then please email bdflynn@outlook.com