Madeline started as a CAFOD 'Step into the Gap' volunteer at Leeds Trinity University last September. This programme is for people aged 18-30 who want to take a year out in the service of others. CAFOD works with various placement organisers such as universities, retreat centres and diocesan youth teams.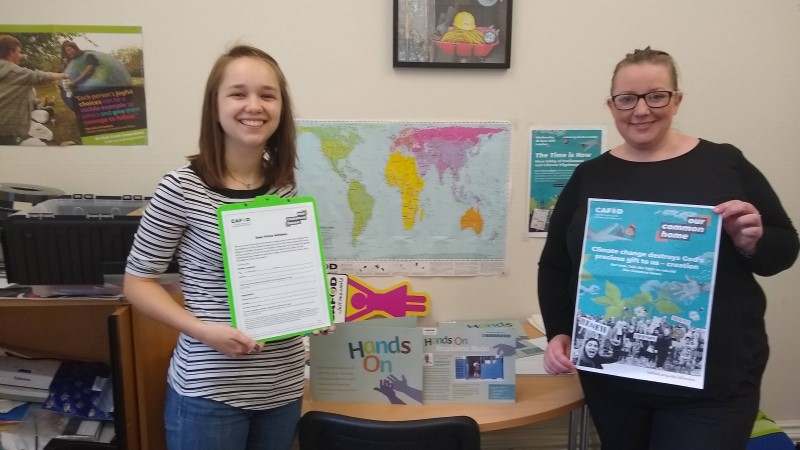 Madeline first heard about the programme from her mother, who is a CAFOD volunteer herself: "She recommended that I look at the CAFOD website, which I did. I found myself deeply moved by not only the work that CAFOD are doing but the way it is portrayed – the positive imagery and language used to describe those being helped by CAFOD and partners really struck a chord with me. I believe that this dignity and respect held for everyone really sets CAFOD apart from other charities."
Madeline was part of the Leeds Trinity Chaplaincy team and as well as undertaking standard chaplaincy tasks also promoted CAFOD campaigns, prayer and fundraising actions throughout the year. For instance, on All Saints Day (a big day at LTU) she organised a stall to engage with students about the environment and living more simply. One of her strategies was to have a 'guess the vegetable' competition! Madeline comments "I needed a way to get people interested and this seemed more intriguing than just trying to give them a leaflet. On the table I had Papaya, Celeriac, Pomegranate, Persimmon/Sharon Fruit (Purple) Carrot, Onion, Grapefruit, Ginger, Pumpkin, Passion Fruit, Radish, Turnip/Swede, Aubergine/Eggplant, Pomelo and pepper. So, there were a few items that people wouldrecognise – but quite a few that had people puzzled. It was a good way of then being able to ask them to talk about what they thought we could do to make the world more 'green'."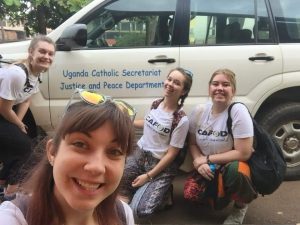 As part of the CAFOD input to Step into the Gap, each volunteer on the programme gets the opportunity to go and visit some of the CAFOD partners in a particular country. As anyone who has been on an exposure visit will testify, these trips can be very life-changing; hearing the stories of people from the global south is one thing – but hearing it in person takes it to an altogether different level. Madeline's trip was to Uganda and the CAFOD partners there.
Reflecting on her experiences over the year, Madeline wrote recently "What a year it's been! From school visits to vegetable quizzes, prayer breakfasts in Leeds to sitting around a fire in Moroto, Uganda, not many can claim that their last year has been so varied!
I have had so many opportunities this year that I never would have had otherwise. My trip to Uganda is the obvious big one, and the things I saw, experienced and learned on that trip will undoubtedly stay with me for the rest of my life. I have been on BBC Radio Leeds 3 times, something which this time last year would have been unimaginable. I have stood in front of a room of 180 Year 7s and spoken about CAFOD without so much
as a quiver in my voice, which again, a year ago, would have had me a nervous wreck. I've met so many incredible people through CAFOD and through my placement at Leeds Trinity University, and am certain that I have made friends for life. My office at my placement is right next to a beautiful Chapel, too, meaning that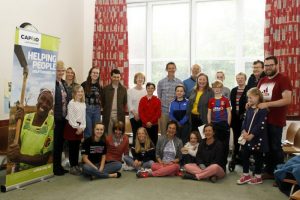 whenever I fancy, I can pop in and take some time to sit in the quiet. My faith has developed so much from this, from having conversations with the Chaplaincy team and experiencing retreat opportunities like Youth 2000, and I am going to be leaving this role a more well-rounded and confident person.When asked about the number of different things she has done she got back with the following details:
"Spoken to over 1,200 people about CAFOD
Raised almost £1,000 for CAFOD
Spoken to 7 different schools about the work of CAFOD and my experiences in Uganda
Visited Uganda, including meeting with the Justice and Peace group in Kampala, the capital.
Run events with the parish of Our Lady of Kirkstall.
Had an amazing year!"
Madeline has said that she would like to stay in the Yorkshire area and will shortly be moving to Skipton. At the moment she is looking for opportunities that would enable her to keep alive her interest in global development (or something connected to linguistics – which was her first degree) but she is open to offers!