By Aoibheann Kelly, Project Director for SPARK Social Justice – A Leeds  J&P Project

Stories can conquer fear and make the heart grow larger. Listening to and sharing stories has been part of my life and I have had the privilege of witnessing first-hand how people's perceptions about the society they live in and attitudes about their fellow citizens has been transformed for the better, through storytelling.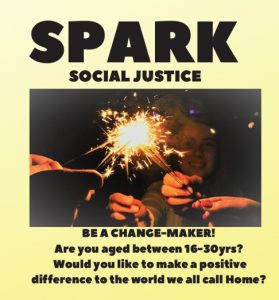 From the very beginning, the people of God have passed on their knowledge of God through storytelling and dramatization. Arts education in theatre is the most spiritual work I've ever done. I've had the privilege of working as a teacher, actor and director, within the arts sector, for years and the opportunity to create work with and for diverse communities that promoted vital discourse and social change. Theatre and storytelling are often at the forefront of social change – it can educate, enlighten, interrogate, protest and provoke, sometimes uncomfortably. It can also transform and heal.
SPARK social justice is a new arts in faith project, created by the J&P Commission of the Leeds Diocese for young people aged between 16-
30yrs. We will be delivering a series of interactive workshops in a variety of settings, including schools, communities and parishes, to increase young people's awareness about local and global social justice-related issues and encourage positive action. The workshops will be rooted in theatre – using real-life testimonies and stories as a basis from which to develop an appreciation of someone's else's journey and inspire meaningful conversations. SPARK social justice is about working in collaboration and solidarity with young people, rather than for them, empowering them to develop a critical understanding of the society they live in and know how to take informed social action, inspired by their faith. We are told that
"Faith without deeds is useless." (James 2:20). It isn't easy to live out God's call for social action and we are required to move away from our comfort zones and face realities we may prefer not to see.
We hope that SPARK social justice will ignite young people's hearts and minds and in turn, inspire them to make a real difference – one good deed at a time.