The Commission has shown films about Palestine in the past but in a new venture we recently joined forces with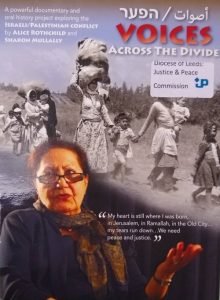 the Leeds Pax Christi Group to show a film as part of the Fifth Leeds Palestinian Film Festival.The film was called 'Voices Across the Divide' and we showed it at Wheeler Hall at the back of St Anne's Cathedral. Despite a little confusion about the starting time (which was advertised a bit differently in different places!) we ended up with about 60 people staying to watch the film. Fortunately, there were some interesting stalls with Fairly traded goods from Palestine and refreshments were also available for those who came a little early for the film itself. The film only lasted about an hour. It had been made by an an American Jewish filmmaker called Alice Rothschild. She wove together interviews with Palestinians in the USA and Canada with historical photos and footage to help create an intimate portrait of what is undoubtedly one of the most complex conflicts of recent times. However, hearing the stories of individuals and their families is a way of making the conflict and its impacts much more real. People were clearly moved by what they saw and heard and there was a good discussion afterwards with comments and questions from the floor. Several people there had been to Palestine Israel within the last 5 years and were able to talk from their own experience as well – which also enhanced the experience.

Tricia Griffin, a member of the Film Festival Organising Committee commented:
We show films that are not readily available to general audiences in and around Leeds; films that shine a light on Palestine – it's people, history, culture and society, that are thought provoking and challenge the sterotypes that are prevalent about the West Bank and Gaza. Where possible we arrange discussions and Q+As after the film and from time to time we organise a film and food event to provide opportunity for people to meet and talk in more depth. The films that I think are the most powerful and the most enjoyable are:

Wajib (2018) – Comedy/drama set in Nazareth, focused on the relationship of a father and son. Wonderful sense of place and character.

Gaza (2019) – Beautifully shot new film that captures how ordinary people find meaning behind the conflict.

Occupation of the American Mind (2017) – the film explores how the Israeli government, the U.S. government, and the pro-Israel lobby have joined forces, to shape American media coverage of the conflict in Israel's favour. "One of the most compelling and important documentaries in recent years" John Pilger
The Wanted 18 (2014) – Excellent animated documentary about the efforts of Palestinians in Beit Sahour to start a small local dairy industry during the First Intifada. Very interesting for its historical perspective on non-violent protest.