By Lucy Irven, Facilitator for the Diocesan Refugee Support Group
Once more the Diocesan Refugee Support group invited parishioners and organisations to share news and ideas of our support for Refugees and Asylum Seekers. This time we were warmly welcomed by Fr Simon Bradbury and Parishioners of Ss Peter and Paul Parish in Wakefield to their very smart Parish facilities. About 50 people gathered for a series of presentations, guided skillfully by John Battle, Chairman of the Leeds Justice and Peace Commission and member of the Refugee Support Group.
Carol Hill, Director of Catholic Care, gave a brief introduction to the Government's Community Refugee Sponsorship scheme and then showed us a very moving presentation of images and music. The shocking images of war torn life in Syria and the treacherous journeys made across Europe were in stark contrast to those of the welcome and comfort experienced by the families that have been welcomed by Community Sponsorship scheme.
Brian Hamill gave us an introduction to Wakefield District City of Sanctuary (WDCS) of which he was a founding member some years ago. A particular concern of WDCS is those who are accommodated at Urban House, one of the five Government Initial Accommodation Centres in the UK, where asylum seekers will stay for about 3 weeks before being placed in more permanent accommodation while their claim is being considered. About 100 of those Asylum Seekers will then be dispersed to the Wakefield area in a year whilst others go to Leeds, Bradford, Calderdale or Huddersfield.
WCDS offers a range of drop-ins and other support services in venues around the town for which they are always looking for volunteers.
Linda Fielding, also a founder member of WDCS, then told us about the work of the Asylum Seeker Support Fund (ASSF) and Clothing Store, both based in Wakefield. Many of the Asylum Seekers who arrive at Urban House have only the clothes they were wearing on arrival and so the Clothing store offers emergency packs for recent arrivals. They can then provide more substantial packages of support clothing as well as additional household or large items such as a pushchair or winter coat. The ASSF gives them £10 to £20 a week along with food parcels of both fresh and non-perishable foods. Linda said they are always looking for volunteers to help with the Clothing store and Food bank as well as regular funding to maintain their support funds.
The Parish SVP groups in Wakefield are very generous with their support of Wakefield District of Sanctuary. Mike Woulfe of St Peter and St Paul explained how they help with transport to Leeds for meetings or to access the Night shelter. Whilst the SVP works to provide food, clothing and household goods as needed across the city, Mike pointed out that they believe their support is also needed for the emotional and social aspects of life. The personal encounter is a very important aspect of making a difference for refugees and asylum seekers. He said a lot is being done but that there is always more to do and whilst working hard it is always important to remember that we must walk humbly in everything we do.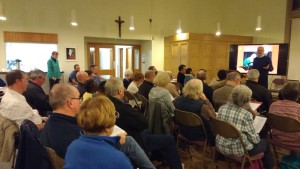 John Battle closed the presentations saying how important it is to have hope. He quoted the words of Pope Francis, from the back of the Poems of Hope booklet, 'A hope that is expressed in expectations for the future, in the desire for friendship, in the wish to participate in the host society also through learning the language, access to employment and the education of children…We can and must all nourish this hope!!'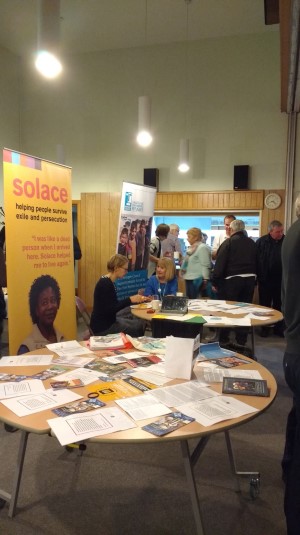 After the formal presentations, refreshments were available and people could chat informally with the many groups present about the volunteering opportunities available.