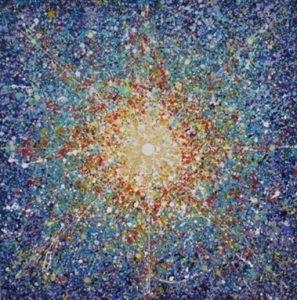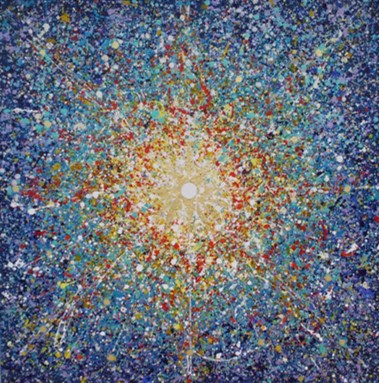 Our latest day of reflection, held on 19th October at the Good Shepherd parish centre in Mytholmroyd, was an extended celebration of the mass exploring the connections between the mass and care of God's creation.
The day was structured around the different parts of the mass. After some initial refreshments, we started our day with an extended penitential rite exploring and reflecting on the ways in which all of us, both individually and at a community level, have failed to adequately care for God's creation. The usual Liturgy of the Word followed with insightful reflections provided by Mgr Donal Lucey who accompanied us on this day.
All were invited to go and take some time for private reflection after this.
When we got back together as a group it was to sit at a long table that had been set out in a style reminiscent of depictions of the Last Supper. However, before sitting at it, everyone helped to put everything on the table that we needed as a community to celebrate our Eucharistic meal.
When Communion was completed, we took our lunch break – making very apparent the link between the meal element of the Eucharist and physical nourishment through sharing a meal communally. After lunch there was a further period of private reflection as part of our Communion Thanksgiving – with the opportunity to take a walk in the green areas and corridors immediately accessible from the parish centre.
When we re-gathered we took part in a further reflection exercise prior to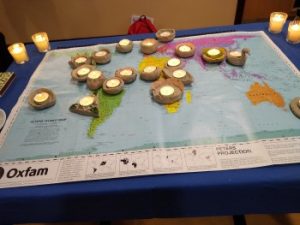 a final blessing and hymn. This involved everyone being given a piece of clay and being asked to make a tealight holder from it. Clay is a motif used in the Gospels and we reflected on this as we each made our tealight holder. Everyone was then invited to light a tealight, put it in their holder and to place this on a map of the world in places where we know that environmental degradation is worst – to represent our commitment to go away from this celebration renewed in our motivation to do more about caring for God's creation and to recognise that it is the world's poorest communities that are being most badly affected by our lack of care.
Everyone was very appreciative of being able to join in this celebration. One attendee from Huddersfield commented: "It was good to make the Mass last all day: time to slow down and let each part of the liturgy speak to me. This was a good context for thinking about the climate emergency, and the guidance of Laudato Si, especially with the focus given by the special Eucharistic Prayer that was used. This reinforced the message that this is our generation's responsibility, and that fine words and sentiments are no use if they do not lead us (and especially me) into making and spreading change in our comforts and habits of consumption."