Who are you?
I'm Julie Bowyer and I live in Saint John Mary Vianney Parish (SJMV). I am a retired sales manager, hold a volunteer position as school governor at my local Catholic primary and am an active parish member at SJMV.

What attracted you to becoming a CAFOD schools volunteer?
I have always been interested in the work of CAFOD, and in May 2019 I attended a training session, with Catherine Gorman from CAFOD's Theology team, in my role as a Children's liturgist for the parish I attend. There I met with CAFOD's local worker, Bronagh, who said there was a vacancy for a school volunteer in the Leeds Diocese. Initially I wasn't sure if I had the right skills to be a school volunteer but decided to attend the induction training to find out more. I have recently completed the 2 days of training and am now excited to meet the local schools who have requested a visit from CAFOD.
Why are you interested in CAFOD's work?
I help with the weekly tea and coffee after Mass, which raises money for CAFOD, helping the poor and doing our own little bit to make a difference. On my recent training, with the other school volunteers, I have learned a great deal more about the unjust world in which we live. I will be delivering assemblies to primary and secondary schools on the people defending the forests of the Amazon. I could not have imagined this time last year that this is what I would be doing!
What has this got to do with being a Catholic?
I never think about it in that way. I would not usually discuss my faith, but I suppose it is a way of putting my faith into practice.
What made you interested in going into schools?
I am a school governor and I also volunteer in a local primary school, so I suppose the interest in schools was already there, although this is a new challenge which I am looking forward to pursuing. There is a good level of support, both locally and nationally, which helps give you more
confidence to do it and I have met lovely people through the training so far.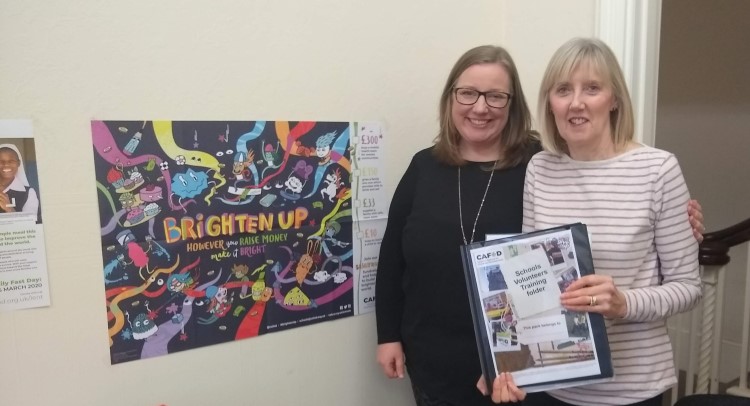 What do you like about doing schools Volunteering?
It is great to get to meet the children and engage with them, educating them about the good work that CAFOD does. Already I have been able to share updates on CAFOD's work in Uganda with nearly 200 children.
What would you say to anyone who was thinking about doing it themselves?
I would say 'Give it a go', CAFOD is a wonderful organisation and an opportunity to learn more about their work that otherwise you would never get to hear about. I think you need to have some IT skills, like how to find and download presentations from the CAFOD website and also
be interested in public speaking and working with children.
Has volunteering for CAFOD changed the way you live at all?
I think the current Lent campaign on the Amazon has really opened my eyes, on the help the indigenous people of the Amazon need to protect the rain forest. I look forward to seeing the reaction from the schools I will be meeting, when I invite them to hold football fundraisers this Lent, to help support the people defending the rainforest