By Carol Burns
Of course,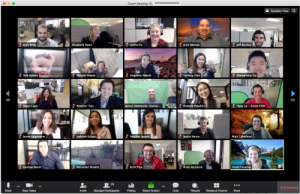 the answer is 'yes' and I am sure many of you are linked to Change.org and Avaaz as well as other campaigning organisations such as  Church Action on Poverty or Sabeel Kairos, to name a few that come to mind. I wanted to share a small example of campaigning in Garforth.
The Garforth Social Action Group which includes members from St Benedict's Parish have been engaging with their local MP, Alec Shelbrooke, in the last few years. Most recently we met him at the Climate Justice Lobby in June 2019 and decided to follow this up by arranging to meet him again to address some of the Lobby issues including ensuring DFID does not support projects overseas which promote fossil fuels and also to hear more about the practical initiatives the government intends to take to reach their targets for Net Zero Carbon emissions.
We wanted to involve St Benedict's Primary school, as well, as their eco council had some concerns they wanted to raise.  Our meeting would have been on May 1st and, of course, this was postponed.
However, given the opportunities that the Covid Crisis has provided us with for a Green Deal, we decided to approach him to have a Zoom meeting. Slightly to our surprise he agreed immediately and within a week we had arranged a Zoom meeting with four members of the group and Alec. The four of us from Garforth Social Action group had a pre meeting on Zoom to plan what each of us would say.
 It was a short meeting and we felt it was the beginning of a longer discussion. There was certainly no argument about helping to restart the economy with policies which would also help reach zero carbon emissions. He is a member of the One Nation Conservative grouping of backbenchers and  he and especially the new Northern Conservative MPs are looking for policies which will help their constituents and cement their own position.
We agreed to send him some information and we will be asking him the questions the Committee on Climate Change are asking the government – more details can be found by using this link:
Committee on Climate Change Asks
It felt important to ensure that he knew that some of his constituents are concerned about the Climate Crisis and to keep the dialogue going. It's all about building relationships and this was a good step on the way.