By Carol Burns, Leeds Diocese Pax Christi member
Imagine being 19 years old and having to decide whether to agree to be conscripted into the armed forces for your national service. Imagine then if you decided you couldn't in all conscience agree to be part of an army that supports indeed maintains the occupation of another people and risked being put in prison
This was the story of Atalya ben Abi a young Israeli woman, in the documentary, 'Objector,' which was shown at the Leeds Palestinian Film Festival ( November 2021) in partnership with Leeds Pax Christi and the J&P Commission.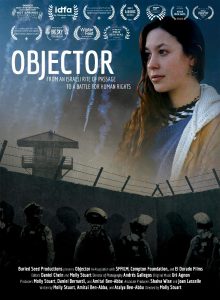 This documentary film followed Atalya's journey as she made the decision to refuse her military service and apply to be a conscientious objector.
Interspersed with conversations with Palestinians who she had met during a year of volunteering were conversations with her family as she explained to them why she was going to refuse to do her military service. It was noticeable how attentively she listened to others. We heard her sister talk about feeling under siege from attacks from Gaza, yet not able to tell her small son that they don't have a shelter and her grandfather explaining why he thinks she is wrong. It was a privilege to see how her family tried to understand her decision even though her mother had been a fulltime member of the army and her father was a reservist, seeing their journey towards realising that they did not want to be associated with an Israeli Army that was policing the occupation. They were able to fully support Atalya in her decision.
Atalya found support in her decision through other conscientious objectors, a small but dynamic group, but it was still a very hard decision as she knew she was likely to be imprisoned until there was a chance for her to make her case to the Israeli authorities.
This film is an important watch for many reasons
• The chance to hear a range of Israeli voices and opinions not all Jewish people in Israel speak with the same voice.
• To hear from Atalya's perspective the injustices that Palestinians experience. She argued that her refusal to do her military service was about equality for all groups of people and that the Palestinians should have equality.
• To see Atalya's bravery in being willing to go to prison for her beliefs, she was imprisoned for a total of 110 days before she was able to attend her hearing to see if she would be considered a conscientious objector
• The reluctance of the Israeli authorities to accept her as a CO, but dismissed her from the army for 'severely bad behaviour'
• To see her carry on campaigning against the Occupation despite abuse being hurled at her and fellow CO's from other Israelis.
I was also interested to discover afterwards that the director Molly Stuart came to film making through community organising and a wish to improve the way social movements for change are portrayed.
The film was informative, moving and inspiring in equal parts and if you would like to watch it you can stream it online for a small fee by going to the film's website https://objectorfilm.com/
The evening also included a chance to ask questions of Atalya as she joined the meeting via zoom from Amsterdam where she is now studying.
An added bonus before the main feature was a short five minute animation, Checkpoint, directed by Jana Kattan while she was a student at the Bournemouth Arts University. This short film tells the story of a young Palestinian girl's experience of going through a checkpoint to get to school. Jana was also able to join us in person for the evening. It was great to have these two young women available to give their views about the situation in Israel Palestine during the post-screening discussion.
The event was fully booked and organisers from all sides were pleased to see many new people at the film festival. It seems likely that next year, funds permitting, that J&P will be partnering with Leeds Diocese Pax Christi and the Festival committee again.