It will be Ash Wednesday in a fortnight.
This year, CAFOD's Lenten campaign is the Walk Against Hunger; inviting people to walk 200km during Lent to raise awareness and funds for CAFOD's nutrition projects. The campaign is particularly focusing on Sierra Leone.
Around the world there are 200 million children living at risk of malnutrition. When so many cannot access nutritious food, CAFOD is asking us to walk 5km every day to stand against hunger and in solidarity with all those suffering from it around the globe.
So far, in the Diocese of Leeds, 15 schools in the Bishop Konstant Multi Academy Trust have signed up to take part with lots more schools still expected to sign up in the run-up to Lent.
Taking part alongside them will be Bronagh Daly, Community Participation Coordinator for CAFOD Leeds.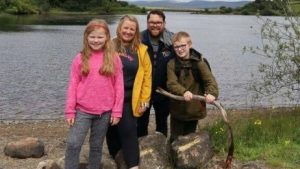 Bronagh will be walking from school to school and delivering live assemblies with CAFOD school volunteers in the playground as she passes through. Some of the staff and children from the schools will be accompanying her to their neighbouring schools.  
"This year, I'm really excited that families in my own parish will again be strapping on their walking boots! There is a real buzz about this year's challenge – everyone is doing it their own way – a real sense of solidarity with people joining in across the diocese, and across the country. My family in London have even said that they'll join in with me virtually. How cool is that?!
So, join us in our Walk Against Hunger. Let's put our faith into action and help stamp out hunger together!"
TAKE PART
Start your journey!
Sign up at: https://walk.cafod.org.uk/
Set up a JustGiving Page
Spread the word so people can donate to your page
Track your steps on your phone
Start marching for food security!